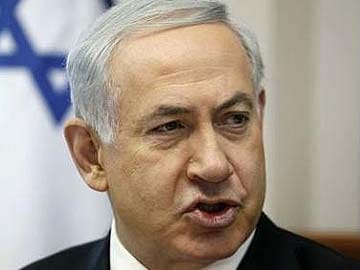 Jerusalem:
World governments should not rush to approve the new Palestinian cabinet, Prime Minister Benjamin Netanyahu warned on Sunday after the Palestinians accused Israel of punishing them over a unity deal.
"I call on all responsible elements within the international community not to hurry to recognise the Palestinian government that Hamas is part of, and which relies on Hamas," the Israeli premier told ministers at the weekly cabinet meeting, saying it would "strengthen terror".
Palestinian president Mahmud Abbas has said the new government, which is to be sworn in on Monday at his Muqataa headquarters in Ramallah, will be a government of political independents that will reject violence, recognise Israel and abide by all existing agreements.
Although the formal line-up has not yet been made public, it has been pieced together by Abbas' Fatah movement and Gaza's Islamist Hamas rulers in accordance with a reconciliation agreement inked in April. Technocratic in nature, it will not have a political mandate.
Israel has described the unity deal with Hamas, whose charter calls for the destruction of the Jewish state, as a blow to peace and vowed to boycott it.
In a move which further underscored Israel's opposition to the new government, three Gazans who were to travel to the West Bank to be sworn in as ministers were blocked from leaving the coastal enclave, officials said.
- Government boycott -
Speaking late on Saturday, Abbas said Israel had informed him it would cut all ties with the incoming government, in what he described as punishing the Palestinians for overcoming their years-long internal political differences.
"Israel wants to punish us for agreeing with Hamas on this government," he said, explaining that it had been made clear to him that the Netanyahu administration would "boycott the government the moment it is announced".
But the Palestinians would have an answer for every Israeli move, he warned.
"Each Israeli step will have a proper Palestinian response," he said, without elaborating.
"We will take everything step-by-step, we will not be the ones to react first."
Abbas appeared to be alluding to Palestinian intentions to seek further recognition for their promised state in the international diplomatic arena.
Despite Israel's boycott threat, severing ties was unlikely to affect security coordination with the forces of Abbas' Palestinian Authority, Yediot Aharonot newspaper said.
"The assessment is that... security coordination between the two sides will not be harmed," it said, quoting unnamed sources.
However, Israel would begin holding Abbas "responsible" for any violence coming from the Gaza Strip, such as rocket fire on southern Israel, it said.
- Stuck in the Strip -
Earlier, a senior Palestinian official said Israel had blocked the passage of three Gazans who were to have been sworn in as ministers in the new government.
The three had applied to cross to the West Bank on Thursday, but their application was immediately rejected.
"We sent the application in on Thursday and explained that these officials are to be sworn in as ministers in Ramallah, but Israel immediately rejected the application," he told AFP on condition of anonymity.
COGAT, the Israeli defence ministry unit responsible for Palestinian civilian coordination, refused to comment on the matter, as did Netanyahu's office.
Public radio said COGAT head, Major General Yoav Mordechai, had vetoed the request.
On April 23, rival Palestinian leaders in the West Bank and the Hamas-run Gaza Strip announced a surprise unity deal, pledging to work together to set up an interim government of political independents.
The new government, which will pave the way for long-overdue legislative and presidential elections, will be chaired by Rami Hamdallah, who is currently serving as prime minister in the Fatah-dominated West Bank administration.
Speaking to the official Voice of Palestine radio, Fatah representative Azzam al-Ahmed said the new government would work to practically implement the reconciliation agreement on the ground.
"We hope this government will immediately start with practical steps to end the divide and restore the unity of Palestinian institutions in the West Bank and Gaza," he said.
Get Breaking news, live coverage, and Latest News from India and around the world on NDTV.com. Catch all the Live TV action on NDTV 24x7 and NDTV India. Like us on Facebook or follow us on Twitter and Instagram for latest news and live news updates.