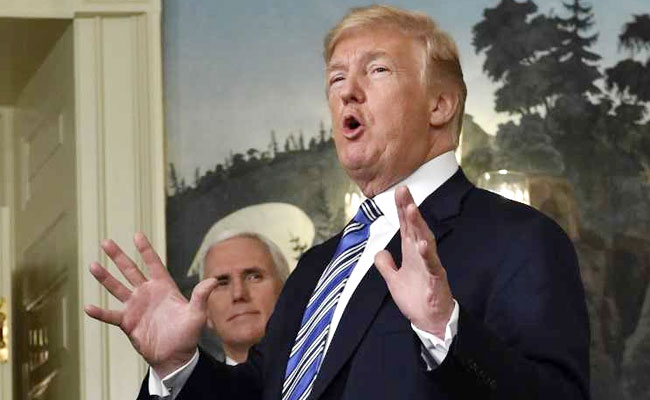 Washington:
US President Donald Trump has slammed the White House Correspondents' Association and called the annual dinner "an embarrassment", the media reported.
Mr Trump's remarks came on Sunday night 24 hours
after comedian Michelle Wolf ripped
into the president and his aides including White House Press Secretary Sarah Huckabee Sanders during the dinner on Saturday night which was televised live, reports CNN.
"The White House Correspondents' Dinner was a failure last year, but this year was an embarrassment to everyone associated with it," he tweeted.
"Put Dinner to rest, or start over!"
Trump's didn't call out Wolf by name in his tweet, he only said "the filthy 'comedian' totally bombed".
He added that "she couldn't even deliver her lines -- much like the Seth Meyers weak performance."
For the second year in a row, Trump did not attend the dinner. On Saturday, he was at a campaign rally in Michigan.
On Sunday night, the association issued a statement expressing regret about Wolf's performance.
"Last night's programme was meant to offer a unifying message about our common commitment to a vigorous and free press while honouring civility, great reporting and scholarship winners, not to divide people," the Association's President Margaret Talev said.
"Unfortunately, the entertainer's monologue was not in the spirit of that mission."
Fox News' Ed Henry, NBC News' Andrea Mitchell and other prominent correspondents called on the association to apologize for the most controversial portions of Wolf's act.
Wolf opened her act with the line: "Good evening, here we are at the White House Correspondents' Dinner; like a porn star says when she's about to have sex with Trump, let's get this over with."
Wolf's other targets included Vice President Mike Pence, White House counsellor Kellyanne Conway and the president's personal lawyer, Michael Cohen, Politico reported.
Former White House Press Secretary Sean Spicer deemed the evening a "disgrace" in a tweet, to which Wolf replied: "Thanks!"
Begun in 1921, the White House Correspondents' Association annual dinner has been attended by every President at least once during their term in office, beginning with President Calvin Coolidge in 1924.