New Delhi:
US President Donald Trump is addressing the 73rd session of the United Nations General Assembly in New York.
Trump on Monday spoke at the opening session of the Global Call to Action on the World Drug Problem at the United Nation. "The scourge of drug addiction continues to claim too many lives in the United States and in nations around the world. Today, we commit to fighting the drug epidemic together," he said.
Trump also met French President Emmanuel Macron as both France and US pledged to fight against "global strategic challenges" and terrorism.
Here are the live updates of the Donald Trump live address at the UNGA.
Read: India Successfully Lifting Millions Out Of Poverty, Donald Trump Tells UN
US President Donald Trump on Tuesday lauded India's efforts to lift millions of its citizens out of poverty as he addressed world leaders at the 73rd session of the UN General Assembly.
Read: World Suffering From Trust Deficit Disorder, Says United Nations Chief Antonio Guterres
UN chief Antonio Guterres on Tuesday warned that the world is suffering from a bad case of "trust deficit disorder" where polarisation is on the rise and cooperation among nations is more difficult as he appealed to the global leaders for renewed commitment to a rules-based order.
"Not long Venezuela was one of the richest countries in the world. Today socialism has virtually wreaked the country. Socialism led to oppression. In that spirit, we ask nations here to call for restoring democracy in Venezuela," Donald Trump at UNGA.
On illegal immigration, Donald Trump says that "tolerance for human smuggling is horrible".
I have great respect for President Xi, but we will not tolerate the trade gap, says Donald Trump on trade war with China.
"We cannot allow world's greatest propagator of terrorism to possess a nuclear warhead. We ask all nations to isolate Iran's regime till their terror propaganda continues," says Donald Trump at UNGA.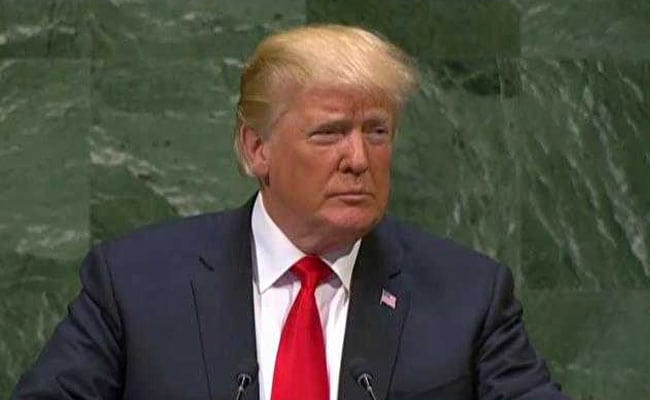 "Following my trip to Saudi Arabia last year, they are identifying new sanctions to contain terrorism," Donald Trump says at UN. He adds, "The middle eastern countries are pursuing multiple avenues to end the horrific civil war in Yemen."
"We believe when nations defend each other's interests, it helps achieve the goal of world peace," says Donald Trump at UNGA.
Donald Trump addresses UNGA meeting, talks about US' growth. He says, "Joblessness is at 50-year low."
President Donald Trump arrives for his address at the United Nations General Assembly meet.
Will be speaking at the United Nations this morning. Our country is much stronger and much richer than it was when I took office less than two years ago. We are also MUCH safer!

- Donald J. Trump (@realDonaldTrump) September 25, 2018