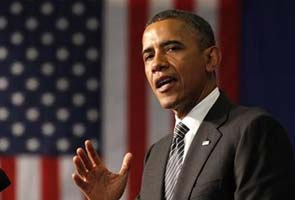 Denver:
A 20-year-old Colorado man charged with threatening to kill President Barack Obama during a visit to the state is severely mentally ill and must remain in custody, a federal judge ruled on Monday.
Mitchell Kusick was arrested this month by the US Secret Service at his parents' suburban Denver home after his mental health therapist told police last month that Kusick had revealed to the therapist that he wanted to kill the President, and had been trying to keep track of his visits to the Denver area.
A US Secret Service affidavit showed that Kusick also "made credible threats and took steps" toward shooting and killing children at a trick-or-treat Halloween event sponsored by a Denver-area high school.
"It's clear to the court that the defendant has a severe mental illness," US District Court Magistrate Judge Kristin Mix said in denying a request from Kusick's attorney to allow him to be released on bond.
Mix said Kusick had been diagnosed as having bipolar disorder and posed a "risk to the community."
Kusick's attorney, Marci Gilligan, argued that Kusick should be released under electronic monitoring pending trial and be required to live with his parents and to take medications to control his illness.
She said he had "a breakdown" on October 28 and sought help by calling his therapist for an emergency appointment.
Kusick was hospitalized for mental disorders from October 29 to November 9, when mental health providers decided he was not then a threat, Gilligan told the judge.
The Secret Service, who had interviewed Kusick in a mental ward, arrested him because "they were concerned for the community's safety," Assistant US Attorney Richard Hosley said.
The Secret Service agent's affidavit said Kusick had told his therapist he had had daily homicidal fantasies for years. An agent testified on Monday that books about assassinations were found during a search of the home of Kusick's parents, where he had been living.
© Thomson Reuters 2012