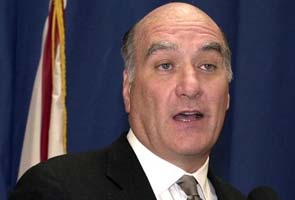 Washington:
William M. Daley will become the next White House chief of staff, Obama administration officials said Thursday. A senior executive with JPMorgan Chase and a former commerce secretary in the Clinton administration, Mr. Daley will bring an outsider's voice and decades of business experience to the West Wing.
President Obama is expected to make the personnel announcement at 2:30 p.m. Pete Rouse, the interim chief of staff and a longtime friend of the president's, will become a counselor to Mr. Obama, officials said.
The announcement comes the day after Mr. Daley visited with the president in the Oval Office. People close to the decision said the president did not offer the job to Mr. Daley at their meeting, but did so afterward.
At JP Morgan Chase, Mr. Daley, the brother of Mayor Richard M. Daley of Chicago, is responsible for its Midwestern operations. He has been a player in national politics, both publicly and behind the scenes, since the early 1990s, when President Bill Clinton enlisted him to use his connections with business and labor leaders to shepherd the North American Free Trade Agreement with Mexico and Canada through Congress. It was enacted over the strong opposition of labor unions and many Democratic lawmakers.
Mr. Clinton made Mr. Daley, 62, his commerce secretary in his second term. Mr. Daley left in mid-2000 to become chairman of Vice President Al Gore's presidential campaign, and he was given credit for stabilizing what had been a troubled election team.
During the Bush administration, Mr. Daley worked for a time in Texas as president of SBC Communications Inc., but in 2004 he returned to Chicago to help manage the merger of Chicago-based Bank One with JP Morgan Chase, working closely with the new chief of the merged institution, Jamie Dimon.
Before the 1990s, Mr. Daley was a lawyer and banker in Chicago, where his father and older brother have been mayor for most of the past half-century. Despite his Chicago roots, he does not have a prior close relationship with Mr. Obama, but he has for years been a political ally of Rahm Emanuel, Mr. Obama's first chief of staff and a former Chicago congressman who is now the lead candidate for mayor.
It was Mr. Emanuel and the Obama strategist David Axelrod, another longtime Chicago Democratic operative, who raised the idea of tapping Mr. Daley as chief of staff, associates say. Mr. Daley, who has been critical of the administration at times, particularly for pursuing the health care overhaul once it became unpopular, is seen as bringing a sort of "wise man" personage and fresh blood to the White House, with an ability to reach out to the alienated business community.
"He's an honest-to-god moderate," said Michael Berman, a lobbyist and longtime Democratic operative who is a friend of Mr. Daley. "He's the kind of person who's going to work toward making things happen, and without being dramatic about it."
But Mr. Daley's political centrism and background with business and Wall Street are certain to exacerbate the administration's tense relations with liberal activists in the Democratic base.
One liberal group was quick to comment.
"This was a real mistake by the White House," said Adam Green with BoldProgressives.org. "Bill Daley consistently urges the Democratic Party to pursue a corporate agenda that alienates both independent and Democratic voters."
Another challenge facing Mr. Daley will be integrating himself into the often insular world of close Obama confidants, who have largely run the presidency so far.
He also has big shoes to fill. Mr. Rouse, who will remain at the White House, is a favorite among staffers, who are particularly loyal to him. And Mr. Emanuel was known for his fierce work schedule and a detailed knowledge of the legislative process.
The arrival of Mr. Daley is the latest acceleration of what White House officials have described as an overhaul of the president's senior staff. Robert Gibbs, the White House press secretary, announced Wednesday that he would leave next month to become an outside political adviser to the president.
Next week, David Plouffe, Mr. Obama's campaign manager in 2008, is expected to join the White House, taking over the role that Mr. Axelrod has played for the past two years. Mr. Axelrod is leaving the White House to return to Chicago, where he will help to prepare the president's 2012 re-election campaign.