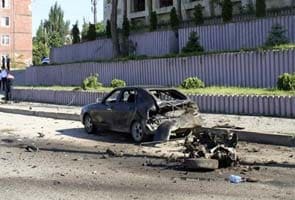 Makhachkala, Russia:
Two car bombs killed at least three people and wounded dozens of others on Monday in Dagestan, a turbulent province in Russia's North Caucasus region where armed groups are waging an Islamist insurgency.
Car bombs, suicide bombings and firefights are common in Dagestan, at the centre of an insurgency rooted in two post-Soviet wars against separatist rebels in neighbouring Chechnya.
While they are rare in other parts of Russia, in a separate incident in a suburb of Moscow on Monday, security forces killed two suspected militants alleged to have been plotting an attack in the capital and arrested a third suspect after a gunbattle.
One elite police officer was lightly wounded in the exchange of gunfire with the suspects - Russian citizens but trained in Afghanistan or Pakistan - who had holed up in a home in the town of Orekhovo-Zuyevo east of Moscow, authorities said.
Investigators initially said eight people had been killed by the successive blasts in Dagestan's provincial capital Makhachkala, but the regional Interior Ministry later put the death toll at three and said more than 40 people were wounded.
Both explosions were near the headquarters of the court bailiffs' service and appeared to have been detonated by remote control, said the federal Investigative Committee, a Russian state agency.
Twisted wreckage of a car could be seen near the building, which was cordoned off by police, and blackened chunks of metal lay in the street.
The main suspect in the Boston Marathon bombings in the United States, Tamerlan Tsarnaev, lived in Dagestan with his family about a decade ago and visited the region last year.
The visit by Tsarnaev, who was shot dead by U.S. police after the April 15 bombings that killed three people and wounded 264 others, is being scrutinised by U.S. investigators for signs of ties with insurgents.
Russian President Vladimir Putin has ordered law enforcement authorities to ensure insurgents do not attack the 2014 Winter Olympics next February in the Black Sea resort city of Sochi, which is close to the North Caucasus.
All those wounded or killed were apparently caught by the second of Monday's explosions, a few minutes after the first, the investigators said.
Insurgents in the North Caucasus have often sought to increase casualties by setting off an initial blast to attract law enforcement officers and then detonating a second bomb.
Dagestan, an ethnically mixed, mostly Muslim region between Chechnya and the Caspian Sea, has become the most violent province in the North Caucasus, where insurgents say they are fighting to carve out an Islamic state out of southern Russia.
At least 405 people were killed in Dagestan in violence linked to the insurgency last year, according to the Caucasian Knot website, which tracks developments in the region.
Putin launched the second war in Chechnya as prime minister in 1999 and likes to take credit for preventing the region from splitting from Russia. But his 13 years in power have been marred by deadly attacks claimed by or blamed on the insurgents.
© Thomson Reuters 2013