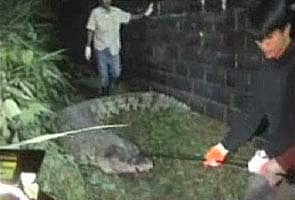 Pattaya, Thailand:
Workers at a crocodile farm in Pattaya, Thailand were busy on Monday evening in search of crocodiles which had escaped from the farm earlier in the day due to recent flooding in the area.
A Local television reported that the Million Years Stone Park and Crocodile Farm had about 4000 crocodiles in the farm, and some of the reptiles were able to escape through a broken wall which was damaged by flooding.
The report said that it's unclear how many crocodiles escaped from the farm, but so far, 22 crocodiles have been recaptured, each of them an average of four to five meters in length.
Almost a million people have been affected by the floods, Thai media reported on Sunday, and twenty eight provinces have been declared disaster areas.
The floods have followed days of heavy seasonal rain which caused rivers to burst their banks.
Thai Prime Minister Yingluck Shinawatra has ordered relief agencies to step up efforts to help the victims.