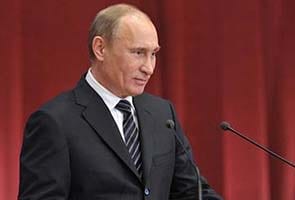 Moscow:
Did Vladimir Putin's flight with a flock of cranes end up grounding him? The Russian President's spokesman says no.
In recent weeks, Mr Putin has rarely left his official residence, sparking speculation that illness or injury had laid him low.
On Thursday, the respected newspaper Vedomosti cited unnamed Kremlin-connected sources saying Mr Putin's September flight in a motorised hang-glider accompany migrating cranes had aggravated an old back injury.
But his spokesman Dmitry Peskov, while acknowledging Mr Putin had a strained back, told the state news agency RIA Novosti that the highly publicised flight had nothing to do with Putin being a homebody.
Mr Peskov was quoted as saying Mr Putin was making only infrequent trips to the Kremlin because he didn't want his motorcade to disrupt Moscow's notoriously bad traffic.