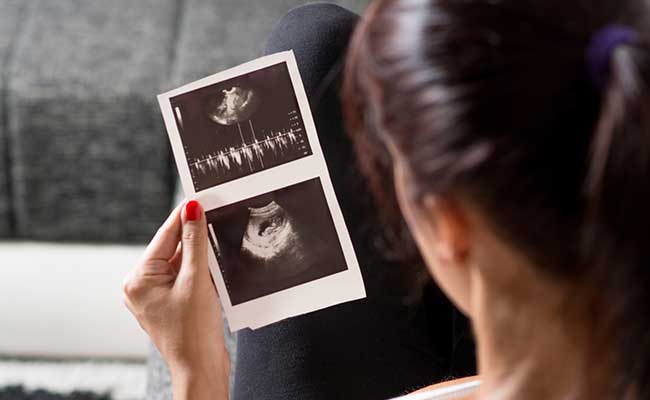 Nearly a year has passed since Michele Wilkins had her unborn child "removed" from her womb during a heinous attack that occurred after she responded to a Craigslist ad offering free maternity clothes.
Wednesday, in a courtroom in Boulder, Colo., the 27-year-old quietly and tearfully recounted that harrowing experience for jurors on the first day of her alleged attacker's trial.
The attack began unexpectedly, Wilkins said, when she found herself in a life-or-death struggle with the woman who stands accused of cutting the 7-month-old fetus out of Wilkins' abdomen using two kitchen knives. It ended with Wilkins lying on a basement floor, bloodied and barely conscious, but with enough wherewithal to pick up her cell phone and dial 911.
As Wilkins recalled the episode in grisly detail, her alleged attacker - 35-year-old Dynel Lane - sat stoically nearby.
Wilkins acknowledged Lane briefly, the Associated Press reported, when she was asked her to identify her attacker.
"I just kept saying, 'Why, why are you doing this?'" Wilkins recalled telling Lane during the violent assault last March. "I just remember this one point where I was holding my hand over my head and I said, 'I don't know why you're doing this. I love you.'"
"She said, 'If you love me, you'll let me do this," before using a broken bottle to stab Wilkins in the neck.
Lane, a former nurse's aide, has pleaded not guilty to six felony counts, including unlawful termination of a pregnancy and attempted murder.
Though he charged Lane with attempted first-degree murder, Boulder County District Attorney Stan Garnett did not file murder charges against her because the coroner found no evidence the baby lived outside the womb, the AP reported.
That controversial decision led Colorado Republicans to introduce legislation that would have made it possible for prosecutors to file murder charges against someone responsible for killing a fetus, according to the AP. The proposal was rejected by Democratic lawmakers in the state.
When Wilkins arrived at Lane's home on March 18, their encounter began innocently enough, according to the victim's testimony Wednesday.
The women, who had never met before, sorted through maternity clothes together, Wilkins said, before striking up a conversation about pregnancy, shopping and their partners.
"Several times I told her I had to go and I thought she was lonely because she just kept talking over me," Wilkins said. "I felt like I was being thoughtful, you know, and listening to her and being kind to her. But eventually I said, 'I really have to go.'"
Wilkins said she was then lured by Lane to a downstairs basement to look at more clothes.
When she turned to leave, she said, Lane attacked. "She was pulling at my sweater, kind of scratched at me," Wilkins said.
Confused, she asked Lane if she had a spider or a bug on her shoulder.
"I think I got it," Lane allegedly replied.
And yet, Wilkins said, Lane hit her again and a chaotic physical altercation ensued.
Wilkins said they wrestled as she tried to escape. Lane eventually pushed Wilkins into a bedroom and ended up on top of her, straddling her chest and pinning her to the ground, Wilkins said.
Wilkins said her attacker initially attempted to smother her with a pillow; after she managed to knock the pillow out of her attacker's hands, she said, Lane attempted to choke her using her bare hands. She also recalled Lane smashing a glass bottle over head, covering her face and chest in a wet substance that mixed with her own blood.
When she eventually lost consciousness, Wilkins said, Lane's hands wrapped around her throat.
What happened next, according to Wilkins, almost defies imagination.
When she regained consciousness, Wilkins said, she realized she had "a really big cut across my stomach."
She attempted to stand and lock the door to the room, but her legs were weak and she fell forward, landing on top of her hand, she said.
"I just felt the blood seeping through my pants and I could feel my intestines outside of my body," she told the hushed courtroom.
Realizing she was too weak to escape the home or outrun her attacker, Wilkins said she locked the door, then happened to spot her cellphone, allowing her to make an emergency call.
In an audio recording of the 911 call, Wilkins told a dispatcher that her attacker stabbed her in the stomach with a knife and a broken glass as she was getting ready to leave the house. The dispatcher kept Wilkins on the phone for about six minutes, asking her to press a towel or anything else nearby on the wound until officers arrived at the scene "Don't go to sleep," the dispatcher repeatedly said.
"She cut me," Wilkins said during the call. "I'm pregnant."
Though her memories of the hours after the attack are fuzzy, Wilkins told the courtroom that she remembered a police officer holding her hand and asking doctors to give her anesthesia at the hospital because her physical pain was too great.
Breaking into tears, she recounted the day after the attack, when it became clear that her unborn daughter - Aurora - had been killed.
In their opening statements, prosecutors portrayed Lane as a woman who was "obsessed" with pregnancy before the attack, according to the Denver Post.
Though she wasn't pregnant, prosecutors said, Lane told family, friends and even her own boyfriend that she was expecting a baby boy, going out of her way to post photos of her growing belly.
"She was obsessed with pregnancy - in a bizarre way," Garnett told jurors as he showed them photos of Lane pretending to be pregnant.
The prosecutor said Lane had even picked a name for her imaginary child: "James."
Defense attorneys argued Wednesday that the attack was unplanned and driven by impulse, according to the Denver Post.
At no time did Lane plan to kill Wilkins, public defender Jennifer Beck told jurors.
The fetus was discovered in a bathtub by Lane's partner, according to the AP. After driving to the hospital with the baby, Lane told hospital staffers she'd had a miscarriage, but refused a check-up.
She eventually admitted to investigators that the child wasn't hers, police said.
Her nine-day trial continues Thursday. Lane remains in custody on a $2 million bond.
© 2016 The Washington Post