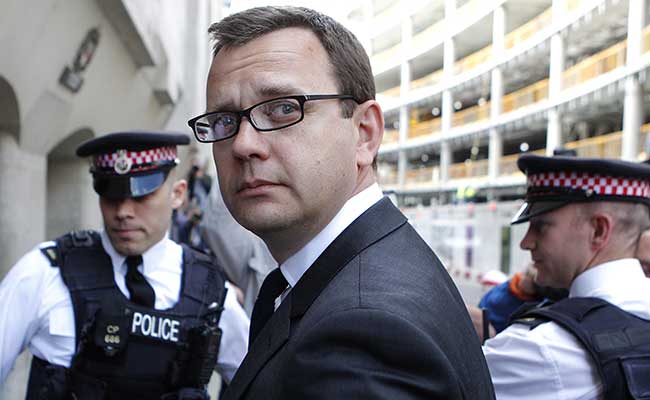 London:
Most of the British journalists who were facing trial for allegedly paying police and other public officials for stories have had the cases against them dropped, prosecutors announced Friday.
The nine include Prime Minister David Cameron's former communications chief Andy Coulson, the ex-editor of the now-closed News of the World tabloid.
Coulson still faces a separate trial on perjury charges which is due to start in Scotland next month.
Three other journalists and six officials are still awaiting trial on charges arising from a £20 million (28 million euro, $30 million) police investigation known as Operation Elveden, one of the biggest ever run by Scotland Yard.
The decision by the Crown Prosecution Service (CPS) came after four tabloid journalists were cleared Friday at the Old Bailey in London, England's central criminal court, of conspiracy to commit misconduct with a range of public officials.
Some of the journalists caught up in the investigation have called it a "witch hunt".
Bob Satchwell, executive director of the Society of Editors, which represents journalists, called Operation Elveden an "incredible fiasco".
"Journalists were treated like drug dealers and terrorists with dawn raids and so on," he said in comments quoted by the BBC.
He praised jurors for repeatedly deciding that "it was right for journalists to do their job and carry these stories."
But the CPS insisted in a statement that they had not been investigating "whistleblowers acting to expose matters of public importance out of a sense of civic duty."
It added: "The 21 convictions of public officials to date show that these were the actions of corrupt individuals motivated by greed and self-interest."