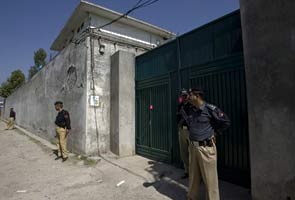 Washington:
America's CIA maintained a safe house near Abbottabad town for a small team of spies who conducted extensive surveillance on Osama bin Laden's compound for months before President Barack Obama signed an order to kill the most wanted terrorist on April 29.
"The CIA maintained a safe house in the Pakistani city of Abbottabad for a small team of spies who conducted extensive surveillance over a period of months on the compound where Osama bin Laden was killed by US Special Operations forces this week, US officials said," The Washington Post reported today.
The secret CIA facility was used as an operating base for one of the most delicate human intelligence gathering missions in recent history of the spy agency, one that relied on Pakistani informants and other sources to help assemble a "pattern of life" portrait of the occupants and daily activities at the fortified compound, the daily said.
The CIA safe house near Laden's hideout did not play a role in the raid of the US Special Forces on May 2 and has since been shut down, in part because of concerns about the safety of CIA assets in the aftermath, but also because the agency's work was considered finished, the report said.
"The CIA's job was to find and fix," a US official, using Special Operations forces terminology for the identification and location of a high-value target was quoted as saying by the paper.
"The intelligence work was as complete as it was going to be, and it was the military's turn to finish the target," the official was quoted as saying by The Washington Post.
According to The New York Times, observing from behind mirrored glass, CIA officers used cameras with telephoto lenses and infrared imaging equipment to study the compound, and they used sensitive eavesdropping equipment to try to pick up voices from inside the house and to intercept cellphone calls. A satellite used radar searched for possible escape tunnels.
"Still, the spying operation had its limits: American officials would see a tall man occasionally take walks through the compound's courtyard, but they were never able to confirm the man was bin Laden. The CIA surveillance team took pains to avoid detection not only by the suspected Al Qaeda operatives they were watching but by Pakistani intelligence and the local police," the NYT added.