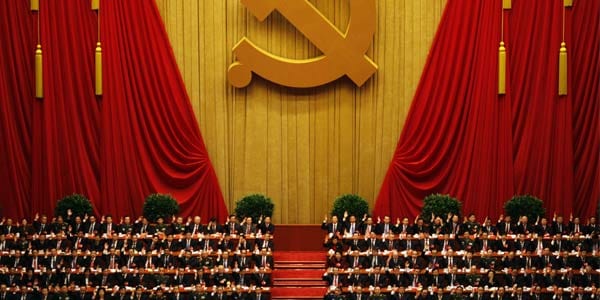 Beijing:
China's ruling Communist Party unveils a new leadership line-up today to steer the world's second-largest economy for the next five years, with Vice President Xi Jinping taking over from outgoing President Hu Jintao as party chief.
The new members of the Politburo Standing Committee - the innermost circle of power in China's authoritarian government - will emerge after a closely controlled vote by the party's new 205-member central committee, which was installed at the end of a five-yearly party congress on Wednesday.
Only Xi and Vice Premier Li Keqiang are certain to be on the new standing committee. Xi will take over Hu's state position in March at the annual meeting of parliament, when Li will succeed Premier Wen Jiabao.
The committee is expected to be reduced to seven seats from nine to make consensus-building easier.
The other preferred candidates, according to sources close to the party leadership, are North Korean-trained economist Zhang Dejiang, financial guru Wang Qishan, minister of the party's organisation department Li Yuanchao, Tianjin's party boss Zhang Gaoli, and the conservative Liu Yunshan, who has kept domestic media on a tight leash.
The list of the conservative-leaning preferred candidates was drawn up by Xi, Hu and Hu's predecessor, Jiang Zemin, the sources said.
Wang, currently vice-premier in charge of economic affairs, is popular with foreign investors but seems set to lead the fight against corruption, having been elected to the party's main anti-graft body on Wednesday.
Guangdong's reform-minded party boss Wang Yang, Shanghai party boss Yu Zhengsheng and Liu Yandong, the lone woman, are dark horse candidates.
All eight of these people were on the list for the new central committee, the largest of the party's top decision-making bodies. Exclusion from that committee means a person cannot progress to the Politburo or the standing committee.
The new leadership will emerge this morning to "meet the press" in a room in the cavernous, Soviet-style Great Hall of the People, which has been decked out in enormous red flags.
Intense secrecy has also surrounded who and how many will be promoted to the Politburo, a council of 20-odd members, and the all-powerful standing committee.
The composition of the two elite bodies could give clues to China's political and economic direction, especially if they end up being dominated by conservatives.
Advocates of reform are pressing Xi to cut back the privileges of state-owned firms, make it easier for rural migrants to settle in cities, fix a fiscal system that encourages local governments to live off land expropriations and, above all, tether the powers of a state that they say risks suffocating growth and fanning discontent.
With growing public anger and unrest over everything from corruption to environmental degradation, there may also be cautious efforts to answer calls for more political reform, though nobody seriously expects a move towards full democracy.
The party could introduce experimental measures to broaden inner-party democracy - in other words, encouraging greater debate within the party - but stability remains a top concern and one-party rule will be safeguarded.
Another decision to watch will be chairman of the Central Military Commission. Hu may or may not choose to stay on in that post for a year or two, as did his predecessor, Jiang.
Which standing committee member gets which portfolio depends, in this hierarchical and top-down state, on the order members appear for the first time together on stage.
While the first person out will be Xi, signifying his position as party leader and president-designate, the party's second-ranked position is head of the largely rubber stamp parliament, leaving the premier in third place.
But portfolios of the second and third-ranked leaders are likely to be reversed, giving Li higher status, sources have said.
Fourth position has historically been occupied by the head of the ceremonial advisory body to parliament, while fifth could be either vice president or propaganda tsar, sixth the executive vice premier and seventh the person in charge of fighting graft.
One position almost certain to go is that held by Zhou Yongkang, the domestic security tsar, reflecting fears the role has become too powerful.
© Thomson Reuters 2012