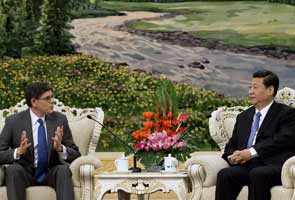 Beijing:
Chinese leader Xi Jinping said Beijing wants strong ties with Washington as he held talks with the US Treasury secretary on Tuesday in his first meeting with a foreign official since being appointed president.
"I attach great importance to China's relationship with the United States," Xi told Jack Lew in a meeting attended by diplomats and finance officials from both governments. "We stand ready to work with the US side to continue to develop this China-US cooperative partnership so that we will be able to open a path of cooperation between major countries."
The meeting was the first high-level contact between the two governments following a months-long hiatus during the Chinese leadership transition that began with Xi being named Communist Party leader in November. He became president last week.
Lew's department said he would raise issues including North Korea's nuclear program, Asia-Pacific security and allegations of Chinese government-sponsored cyberspying during his two day visit.
Lew said Washington wants to work with Beijing to reduce trade and investment barriers and to "protect the work of our innovators" - a reference to complaints about rampant Chinese copying of foreign goods from Hollywood movies to software and telecommunications technology. He said the US government looks forward to China's growth as a market for foreign goods.
"The president is firmly committed to building a relationship of growing strength," Lew said at the meeting in the Great Hall of the People, the seat of China's ceremonial legislature in Beijing.
Also at the meeting were China's new finance minister Lou Jiwei, US Ambassador Gary Locke, an assistant Chinese foreign minister Cui Tiankai and other officials of both governments.
Lew also was due to meet with Premier Li Keqiang, who took office last week as the country's top economic official.
Lew's visit underscores the importance of the China-US relationship. It is the highest-level interaction between the two sides since former US Defense Secretary Leon Panetta's brief trip in late September.
US Secretary of State John Kerry also plans to visit Beijing next month.