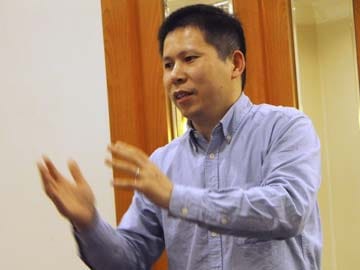 Beijing:
A Chinese court sentenced one of China's most prominent rights advocates to four years in prison on Sunday after he campaigned for the rights of children from rural areas to be educated in cities and for officials to disclose their assets.
The Beijing No. 1 Intermediate People's Court found Xu Zhiyong guilty of "gathering a crowd to disturb public order", the court said on its official microblog. Xu was tried on Wednesday.
Xu's jailing will send a stark warning to activists that the Chinese Communist Party will crush any challenge to its rule, especially from those who seek to organise campaigns.
It also diminishes hopes for meaningful political change, even as China pledges to embark on economic reforms.
Xu's lawyer Zhang Qingfang said he will meet Xu within the next two days to get his opinion on whether to lodge an appeal.
"He said (in court) that the last remaining dignity of the Chinese legal system has been destroyed," Zhang told reporters.
"It's not that we can't bear this result, but that fundamentally, the guilty conviction is illegal, is unreasonable and unfair," he said.
There were chaotic scenes outside the court as police shoved and harassed foreign reporters.
Zhang was briefly taken away in a van by police after the hearing. He said police were still tailing him after he was released.
The government has waged a 10-month drive against Xu's "New Citizens' Movement", which advocates working within the system to press for change. Hundreds of Chinese citizens have participated in activities related to the movement, according to rights activists.
"This is a shameful but sadly predictable verdict. The Chinese authorities have once again opted for the rule of fear over the rule of law," Roseann Rife, East Asia Research Director at Amnesty International, said in a statement.
"The persecution of those associated with the New Citizens Movement demonstrates how fearful the Chinese leadership are of public calls for change," she said.
China has detained at least 20 activists involved in pressing for asset disclosure by officials, although not all are from the New Citizens' Movement.
Two activists stood trial on Thursday in Beijing and four others will be tried on Monday. Three went on trial in December and face more than 10 years in prison if convicted.
Xu's verdict is also a rebuff to Western governments who have expressed concern about his case.
Through his online essays and Twitter account, Xu pushed for officials to disclose their assets and also campaigned for the rights of children from rural areas to be educated in cities, where many live with their migrant worker parents.
Xu's trial is China's highest-profile proceeding against a dissident since 2009, when Nobel Peace Prize laureate Liu Xiaobo was put on trial for subversion after he helped organise the "Charter 08" petition urging the overthrow of one-party rule. Liu was jailed for 11 years.
During Xu's trial, the court rejected the 68 witnesses the defence had applied to testify. It also barred diplomats from attending the trial and security forces roughed up foreign reporters outside the courthouse.
© Thomson Reuters 2014