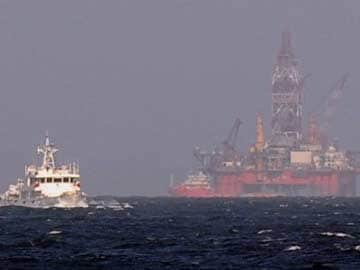 Beijing:
China fired water cannon at a Vietnamese vessel and damaged another of Hanoi's ships, state media said on Tuesday, in the latest confrontation over disputed waters in the South China Sea.
A Chinese coastguard ship collided with a Vietnamese government vessel on Sunday, state broadcaster China National Radio (CNR) said, adding that the Vietnamese ship was "severely damaged."
A sharp rise in tensions between the Communist neighbours was triggered by China's installation of an oil rig in disputed waters last month, leading to Vietnam's biggest anti-China riots in decades, where four people were said to have been killed.
Earlier on Sunday, "China fired a water cannon at a Vietnamese ocean inspection ship creating trouble near the 981 oil platform," the CNR said, adding that the Vietnamese ship retreated after five minutes.
Vietnam last month accused a Chinese ship of ramming and sinking one of its fishing boats, fanning territorial tensions over Beijing's deployment of an oil rig in contested waters.
Relations, though frequently testy, have plummeted between the neighbours over the oil rig's presence, triggering international alarm.
US Defense Secretary Chuck Hagel warned China Saturday against "destabilising actions" in the South China Sea, and backed Japan's plans to take on a more muscular military role as a counterweight to Beijing.
China reacted angrily to Hagel's comments, with Deputy Chief of the General Staff of the People's Liberation Army (PLA) Wang Guanzhong accusing the US of "intimidation."
The oil rig is positioned in the vicinity of the contested Paracel Islands.
China claims nearly all of the South China Sea, locking it into territorial disputes with several Asian neighbours, which have intensified in recent years.
China's ruling Communist party seeks to win domestic support by taking a tough stance on territorial issues, but also attempts to remain on good terms with neighbours for the sake of economic growth, according to analysts.
Chinese Internet users applauded reports of the latest clash. "This is exactly how we need to deal with Vietnam," one wrote on Sina Weibo, a Chinese equivalent of Twitter.
"China is too soft on Vietnam," said another.
Get Breaking news, live coverage, and Latest News from India and around the world on NDTV.com. Catch all the Live TV action on NDTV 24x7 and NDTV India. Like us on Facebook or follow us on Twitter and Instagram for latest news and live news updates.