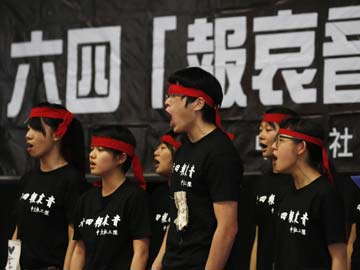 Beijing:
A Chinese-born Australian artist and former protester in China's 1989 pro-democracy movement has been taken away by Chinese authorities, Australia's Fairfax Media said on Monday.
The detention of Guo Jian is the latest in a string of detentions of lawyers, artists, scholars and journalists ahead of the 25th anniversary of the military clampdown on the pro-democracy student movement centered around Beijing's Tiananmen Square.
Discussions of the protest and its military suppression have been a taboo in China, and the authorities always tighten security ahead of the anniversary each year.
But this year's suppression has been harsher than in previous years, and Beijing has shown far less tolerance with the activists, who had got no more than warnings in the past for their restrained commemoration.
Since early May, police around China have detained or put under house arrest dozens of people, including prominent human rights lawyer Pu Zhiqiang, in an attempt to prevent any commemoration.
The Europe Union expressed its concern in a recent statement.
"While acknowledging China's advancement of the economic and social wellbeing of its people in the past 25 years, the EU also hopes to see greater space open up for discussion and debate about China's recent history and for lawyers, human rights defenders and journalists to carry out their work without harassment or interference," the statement said.
Fairfax Media said Guo, a former soldier and protester, was taken from his home in suburban Beijing on Sunday night.
Australia's Department of Foreign Affairs and Trade issued a statement saying it is seeking information on Guo's reported detention and is ready to provide him with consular assistance.
Guo joined the protests in 1989 as an art student and witnessed the military crackdown that began on the night of June 3, 1989.
"I didn't believe it, even though I had been a soldier," Guo was quoted as saying in an article published in the Financial Times last week. "In the army I had never seen that sort of violence. Then I saw the tracers and people falling around me - they were just gone."
His latest art work was covering a scene of Tiananmen Square with 160 kilograms (350 pounds) of minced pork, the Financial Times reported.