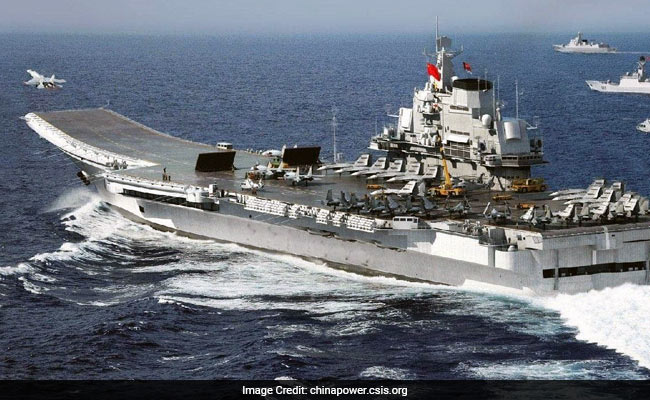 Beijing:
China on Monday said it is building a third aircraft that will be "bigger and mightier" than the other two warships, a move by Beijing to enable its navy to operate far from its shores. A late entrant into aircraft carrier-led naval battleship formations, China launched its first aircraft carrier, Liaoning, in 2012, which was a refit of the former Soviet vessel bought from Ukraine.
Though Liaoning was operationalised and led trial expeditions into the Taiwan straits, it was widely regarded as an experimental vessel used for mastering technologies, especially to operate the newly built J-15 planes from its deck.
Subsequently, China launched its domestically-built second aircraft carrier and commissioned it for sea trials last year. The yet to be named ship is expected to be put into service by 2020. China has launched work of building its third aircraft carrier, official news agency Xinhua reported today.
A "new-generation carrier" is being constructed at the shipyard as per schedule, the state-run China Daily reported quoting Xinhua. The Xinhua article, which was intended to mark the sixth anniversary of the first take-off and landing by a Chinese fighter on the country's first aircraft carrier CNS Liaoning, the report said, without elaborating about the programme of the "new-generation carrier".
The Xinhua article is the first official confirmation that China is building a third aircraft carrier, it said.
The China Daily report referred to the speculation that the China State Shipbuilding Corp's Jiangnan Shipyard Group in Shanghai is building a "bigger and mightier" than the Liaoning and the second carrier. An official at the China State Shipbuilding Corp's headquarters in Beijing, however, declined to comment on the issue.
Also, information officers of the People's Liberation Army Navy could not be reached, the report said. China has been secretive about the construction of its aircraft carriers, though the official media periodically releases sketchy reports.
Officials say the rapid acquisition of aircraft carriers by China is of concerns to India too, as the Indian Navy, which is operating aircraft carriers since 1961, is currently operating only INS Vikaramaditya. The home-made INS Vikrant expected to launch sea trials in 2020.
China is in a hurry to acquire the aircraft carriers as it rapidly expanded the navy coupled with the acquisition of naval bases aboard to back up its growing influence abroad, especially in the Indian Ocean and the South China Sea.