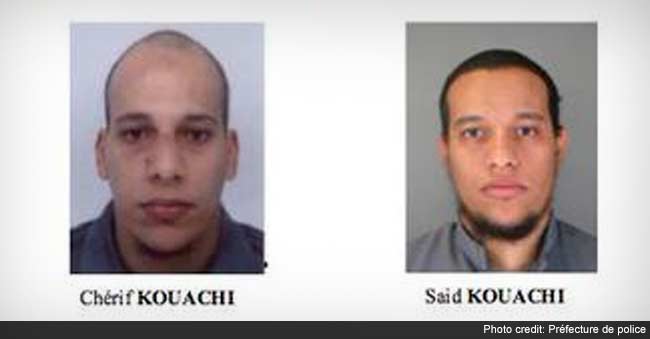 Paris:
Two armed men suspected to have gunned down 12 people at the Paris office of French satirical weekly Charlie Hebdo on Wednesday are speeding towards Paris chased by the police, French media reports. (
Track Live Updates
)
All city gates have reportedly been closed by the police, which has fanned out across the country in a massive manhunt for the killers.
Two men said to match the description of the Charlie Hebdo attackers - Cherif Kouachi, 32, a known jihadist convicted in 2008 for involvement in a network sending fighters to Iraq, and his 34-year-old brother - had been spotted in the northern Aisne region, east of Paris, news agency AFP had earlier reported quoting a source.
Local television reported that the men were also suspected to have robbed a petrol station, about an hour out from Paris.
Masked, black-clad gunmen had burst into the offices of the magazine on Wednesday morning, killing some of France's most outspoken journalists and two policemen, before jumping into a car and escaping.
A third suspect, Hamyd Mourad, 18, turned himself in to the police about this morning.
Seven people were detained in the hunt for the brothers, Interior Minister Bernard Cazeneuve said on Thursday. "Seven people," Cazeneuve said on French radio when asked how many people were being held and questioned over the attack - the bloodiest in France in half a century.
The French Prime Minister, Manuel Valls, said the two suspects - Cherif and Said Kouachi - were known to intelligence services, and he feared that they could carry out another attack. "It is our main concern," he said.
The Kouachi brothers are Paris born.
In the aftermath of the deadly Charlie Hebdo attack, suspected anti-Muslim attacks rocked many areas of France. Three blank grenades were thrown at a mosque shortly after midnight in the city of Le Mans, west of Paris. Shots were fired on another mosque in France. An explosion also took place at a kebab shop near a mosque in the eastern French town of Villefranche-sur-Saone today morning. No causalities were reported so far.
A policewoman was shot dead and a city employee critical injured after a man wearing a bullet-proof vest fired on them with an automatic rifle outside Paris.