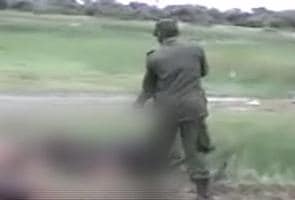 London:
Please note the video carried here has disturbing and graphic images and is not suitable for children.
A video from Sri Lanka aired by Channel 4 in UK is causing shockwaves. The footage shows men in uniform executing naked unarmed men and women. Channel 4 has said it cannot vouch for the authenticity of the video, believed to be shot during the final push by the Sri Lankan government against the LTTE.
The video has been aired at a time when Sri Lankan President Mahinda Rajapaksa is visiting the UK.