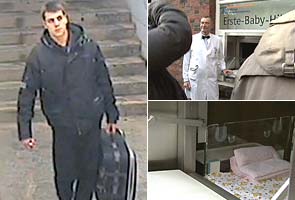 Hamburg, Germany:
Hamburg police released a CCTV video of a man suspected of abandoning an infant in a suitcase.
The video shows a young man with short dark hair and dark clothing walking with a suitcase through the Dammtor S-Bahn commuter train station, close to where the baby was left later on January 4.
The healthy baby girl was dressed neatly in a sweater, wrapped in a sleeping bag, zipped into a suitcase and left outside the city's convention centre, according to the police.
A nearby hotel was alerted to the unattended luggage but security only partially opened the small, black suitcase, and stored it in the hotel's luggage room. Later a hotel porter heard whimpering coming from the suitcase.
"There was this sleeping bag - and a small face, completely red. And then we all started shivering and crying and then I immediately called the fire brigade and the police," porter Naji Habib said last Wednesday.
The baby, who was later named Marie, was taken to the nearby Altona Paediatric Hospital where the infant was found to be healthy, but underweight at only 4.85 pounds and 17.72 inches long.
Doctors who examined the baby girl said the umbilical cord had only been tied with a thin thread which most likely means that the mother gave birth without medical help, according to local media reports.
Hamburg police department spokesman Mirko Streiber said the police had so far received no information regarding the identity of the man in the CCTV pictures, or the baby's mother.
Ironically the hospital that "Marie" was eventually taken to actually has its own "baby safe haven", an exterior and anonymous box which allows mothers to safely leave their unwanted infants in the care of the hospital.
Hamburg police said last week that the homicide squad was investigating the case because the baby could have easily died.
The baby is now reported to be in good health and is likely to be placed with a foster family in the near future.