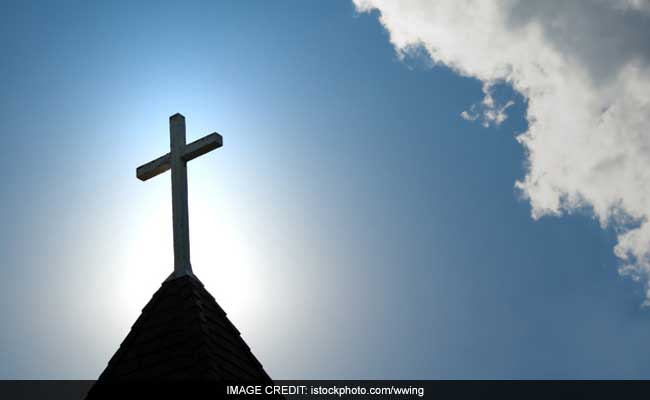 The men having sex inside the Volkswagen Beetle were so involved that a Miami-Dade police officer said he had to tap on the window to let them know that he could, in fact, see them - along with everyone else passing by on South Beach.
But the very public nature of what they are accused of is not what has outraged people on two continents. It's their occupation.
The Rev. Diego Berrio, 39, and the Rev. Edwin Giraldo Cortes, 30, are both charged with lewd and lascivious behavior after being arrested on Labor Day, according to Miami ABC affiliate WPLG. The arrests have led to swift action by the church and have drawn attention to its issues with priests' sexuality.
Berrio is a pastor of Mision San Juan Diego in Arlington Heights, Illinois. One of his duties was bringing visiting priests to the diocese, although he also led a youth group whose mission was to "evangelize young Hispanics in the United States," according to the Chicago Catholic.
Cortes, a priest from Soacha, Colombia, was serving in the St. Aloysius Parish in Chicago. He told a judge that he was supposed to return to Colombia on Wednesday. Instead, he faces an indecent exposure charge.
Both men have been relieved of their church duties in Chicago.
The archbishop of Chicago "has removed Fr. Berrio from ministry and withdrawn his faculties to minister in the Archdiocese of Chicago, effective immediately," according to a statement from the Archbishop of Chicago, Blase Cupich. Officials there have also been in contact with Cortes' home diocese and announced that he "will no longer serve as a priest in the archdiocese of Chicago."
"It is our responsibility to ensure those who serve our people are fit for ministry," Cupich said. "We take this matter very seriously and will provide updates as they become available."
Others reactions weren't as civil.
Catholics and church critics railed against the men on social media. "Four sacrilege. Everyday," one person tweeted. And video from the scene showed the priests covering their faces from cameras as they left jail. At one point, one of the men sprinted away. Neither of the men could immediately be reached for comment.
Miami Beach police officers said the rented Volkswagen was parked on Ocean Drive, in front of a park and a hotel, according to Miami ABC affiliate WPLG.
"The major concern that I had was the fact that it was in public," Judge Jeffrey Rosinek said at the men's first court hearing. "When a police officer can come and just watch, that's a problem."
The case has become the latest entry in the debate about homosexuality and the Catholic Church.
The Catholic Church deems homosexual acts "intrinsically disordered," according to the Catechism.
"They are contrary to the natural law. They close the sexual act to the gift of life. They do not proceed from a genuine affective and sexual complementarity. Under no circumstances can they be approved," the Catechism says.
It adds that homosexual inclination is "a trial" and that gays and lesbians "must be accepted with respect, compassion, and sensitivity" while trying to use prayer and "sacramental grace" to stop.
As The Washington Post reported, Pope Francis has made no concrete changes to church doctrine on homosexuality, but has used more inclusive language about gays and lesbians.
Last month, a reporter on the papal plane asked the pope what a parent should say to a child who comes out as gay.
"Don't condemn," he replied. "Dialogue, understand."
"I'll never say that silence is a remedy," Francis said. "To ignore a son or daughter with homosexual tendencies is a lack of paternity and maternity. You are my son, you are my daughter as you are! I'm your father, mother. Let's talk!"
(Except for the headline, this story has not been edited by NDTV staff and is published from a syndicated feed.)