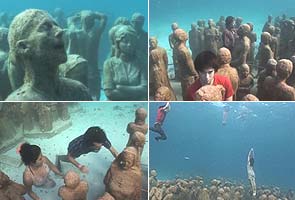 Cancun:
Environmental activists carried out an underwater performance in Cancun on Sunday to draw attention to the risk for (m) millions of people living in coastal areas if immediate action is not taken to curb global warming.
The Greenpeace activists dived down to an underwater museum made up of life-sized sculptures in human form fixed to the seabed where they appeared to try to interact with the concrete figures.
"(We're) Diving with these statues that were built to live under water to highlight the fact that real people can't live under water, yet a hundred (m) million people or more are threatened by sea level rise and governments meeting here in Cancun must make the right choices to protect the climate and protect ourselves," said Greenpeace activist Brady Bradshaw.
Activists and students from China, Dominican Republic, Mexico, Costa Rica, US, Vietnam and the Philippines - all countries with large populated areas under threat by the rising oceans - took part in the performance.
The UN climate talks currently taking place in the Mexican resort town of Cancun moved into their decisive week on Monday with the agenda dominated by future cuts in carbon emissions.
The summit negotiations have narrowed some disputes during the initial week but the toughest decisions are left for the final hours of the 193-nation conference on Friday.
Delegates were feeling pressure to produce at least a modest agreement from the two-week U.N. meeting to restore credibility to the talks after the last summit in Copenhagen failed to agree on any binding action to rein in emissions of global-warming gases.
The conference seeks decisions on establishing a "green fund" to help poorer nations rein in greenhouse gases and to adapt their economies and infrastructure to a changing climate; an agreement making it easier for developing nations to obtain patented green technology from advanced nations; and pinning down more elements of a system for compensating developing countries for protecting their forests.