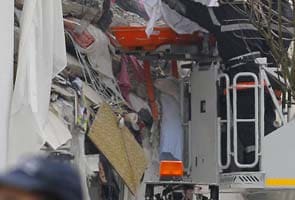 Reims, France:
Two people died and 14 were injured on Sunday when part of an apartment block in the French city of Reims collapsed after a suspected gas blast, just three weeks after a similar tragedy not far away.
French President Francois Hollande sent his "condolences to the families of the victims" as shocked residents grouped around the scene of the accident in a council estate in the Champagne region.
Local authorities said the "probable" cause of the accident -- which saw the extremity of a four-storey building containing some 10 flats crash down -- was a gas explosion.
Pierre Dartout, the top state representative in the Marne department where Reims is located, said two adults were killed and another 14 people were injured, one seriously. Among the hurt were children, he added.
At the beginning of the month, four people from the same family were killed and another person was seriously injured when a gas explosion devastated their council flat in Witry-les-Reims, not far from the scene of Sunday's accident.
That incident had shocked the neighbourhood, particularly as the father had still been alive when firefighters arrived, talking to them for over two hours to try to help them locate his wife and child, before dying in the ambulance.
On Sunday, one council estate resident whose section of the building had not been affected said he heard a huge explosion that shook the walls and broke windows.
"When I looked through the window, I saw that the building had collapsed like a stack of cards, with lots of smoke. I heard people screaming," said the resident, who would only be cited as Rafik.
The building -- built in the 1960s and one of the oldest in the area -- had been renovated several years ago.
"They only re-painted the facade, the interior has not changed since the 1960s. This was bound to happen, it's too old here," said one by-stander named Abdelkader.
"Judging by the state of the buildings, this doesn't surprise me. Here when you put a nail in the wall, it crumbles," said another nearby resident called Raissa.
In a statement, Hollande deplored a "terrible tragedy" and expressed his "solidarity to the city of Reims."