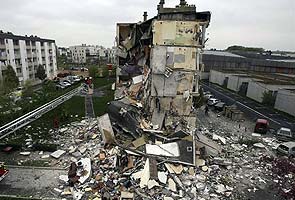 Paris:
Part of a five-storey residential building collapsed in the northeastern French city of Reims on Sunday, killing three people and injuring 14, officials said.
The collapse may have been caused by a gas explosion, regional official Michel Bernard told BFM-TV.
The death toll was not likely to rise as the injured people were not at risk and there were no residents unaccounted for, an official at the region's emergency centre told Reuters.
Around 10 of the 40 apartments in the 1960s-era building were affected by the collapse.
© Thomson Reuters 2013