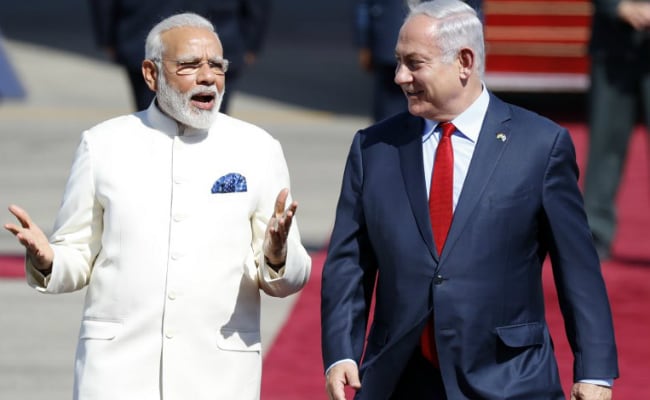 Before setting off for New Delhi this weekend, Israeli Prime Minister Benjamin Netanyahu received an unwelcome reminder of the maneuvering Indian counterpart Narendra Modi must perform as their countries deepen ties.
In early January, Israel confirmed that India called off a $500 million missile deal. In December, India backed a United Nations resolution condemning President Donald Trump's new Israel-friendly policy on Jerusalem.
While Israel is charging headlong into warmer ties with New Delhi, India is engaged in a balancing act, in deference to its historical support for the Palestinians and alliances with Israeli rivals, including Iran.
"The maturing relationship with Israel does make strategic sense for India," said Nirupama Rao, India's former ambassador to the U.S. and China. "But India is also not bereft of the realization that it has important interests in the Gulf and West Asia to protect because these interests involve its many people who live and work in that region, as well as its energy security."
Tiny Israel needs large markets for its export-driven economy. India, with its 1.3 billion people, colossal military budget and widespread poverty, has needs Israel can fill.
Bilateral trade, excluding defense, grew to at least $4 billion in 2016 from just $200 million in 1992, the year the two nations established full diplomatic relations. Israel Aerospace Industries Ltd. won nearly $2 billion in contracts from India last year alone.
PM Modi's Bharatiya Janata Party has challenged the accepted wisdom that closer ties with Israel will alienate India's Muslim minority. During a historic first trip by an Indian prime minister to Israel last year, PM Modi didn't travel the several miles to the West Bank to meet Palestinian Authority President Mahmoud Abbas, as visiting leaders usually do.
A Netanyahu-Modi bromance was carefully choreographed during that visit, complete with shots of them walking barefoot together through the Mediterranean surf.
"India, more than most countries, is making it clear they can engage with Israel without having to package that relationship to the Palestinian cause," said Arthur Lenk, who served as an Israeli diplomat in India in the late 1990s. "It's India saying, 'What's in it for us?'"
"What's in it for us" doesn't always align with Israel's interests. New Delhi is helping Netanyahu's nemesis Iran develop its south eastern Chabahar port. It has consistently backed the Palestinian quest for statehood and, in December, was among 128 nations to denounce Trump's recognition of Jerusalem as Israel's capital.
"What we did with Jerusalem is exactly what our policy has been," said Anil Trigunayat, a retired Indian diplomat and former ambassador to Libya and Jordan.
Netanyahu said the UN vote wouldn't hurt ties.
"I would have preferred another vote, to be frank, but I don't think it materially changes the tremendous flowering of relations between India and Israel," he told journalists Wednesday. "I think you're going to see an expansion of economic and other ties, regardless of this or that deal," he said, commenting on the cancellation of the missile agreement with state-run Rafael Advanced Defense Systems Ltd.
During the Jan. 14-19 visit, Israel and India will announce deals and joint investments in areas ranging from defense to renewable energy, Gilad Cohen, deputy director-general in charge of Asia at Israel's Foreign Ministry, said in a briefing Wednesday.
Netanyahu will be accompanied by about 130 businesspeople from the cyber, defense, agriculture and healthcare industries.
"India has become a more sophisticated market in recent years," said delegation member Benjamin Grossman, head of the Indian practice at the Amit, Pollak, Matalon & Co. law firm in Tel Aviv. "India became aware that if they want to bring technology, they had to change their mindset and reduce the red tape. It also helps that the sentiment between the governments has been really positive."