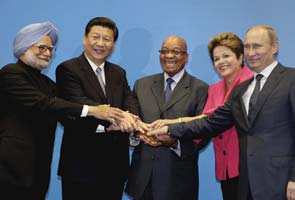 Durban:
The BRICS nations - Brazil, Russia, India, China and South Africa - have warned against militarising the conflict in Syria any further and, for the first time, made a strong statement on the humanitarian situation in the country torn by civil war.
The BRICS nations called for "all parties to allow and facilitate immediate, safe, full and unimpeded access to humanitarian organisations to all in need of assistance. We urge all parties to ensure the safety of humanitarian workers".
The statement is significant since many human rights groups and activists were calling on BRICS to take a more assertive stand on the humanitarian situation in the country.
At the same time, the BRICS declaration in Durban says, "A Syrian-led political process leading to a transition can be achieved only through broad national dialogue that meets the legitimate aspirations of all sections of Syrian society and respect for Syrian independence, territorial integrity and sovereignty."
The BRICS countries, including Syrian President Bashar al-Assad's key ally Russia, oppose foreign intervention in Syria and accuse the West of trying to force a regime change.
Russia, China and South Africa have also voted against UN Security Council resolutions on Syria. Syria's beleaguered president also sent a letter to BRICS leaders calling for help to end his country's civil war.