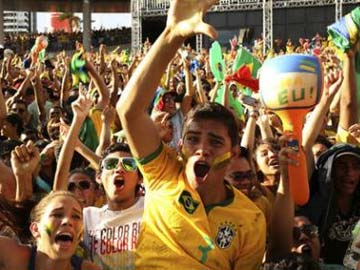 Sao Paulo:
Brazilian health officials handed out condoms to World Cup fans in Sao Paulo on Friday and took advantage of festivities in the city to test people for HIV.
"We can't miss an opportunity like this," said Ivone De Paula, Sao Paulo state's coordinator for sexually transmitted disease prevention. "The fact that it's the Cup lightens the mood a bit. People say 'Hey I'm going to watch the game, I'm having fun, why not get tested too?'"
The program, part of the UNAIDS "Protect the Goal" HIV/AIDS prevention program, provides rapid HIV testing and counseling, as well as free condoms and emergency retroviral drugs. It is also being offered in 11 other cities across Sao Paulo state where visiting World Cup teams are based.
De Paula expected the program to conduct about 300 rapid HIV tests outside Friday's Fan Fest, where a giant screen displayed the Cameroon vs Mexico match. Many were getting tested for the first time ever, she said.
"I had no idea this was going to be here, I just came across it," said a middle-aged man who asked not to be identified. "I wouldn't know where to get tested otherwise, so this helps quite a lot."
Brazil usually conducts HIV and AIDS prevention campaigns during the Carnival holiday, including widespread advertising and condom distribution. Aggressive HIV/AIDS treatment and prevention efforts in the South American country have been held up as a model for the developing world for more than a decade.
© Thomson Reuters 2014