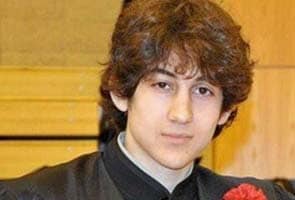 New York:
Three weeks after the deadly Boston Marathon bombings, questions linger about 19-year-old suspect Dzhokhar Tsarnaev, a seemingly normal teenager.
His older brother, 26-year-old Tamerlan, had raised red flags, including with Russian authorities, over his apparent radicalization.
But there never were similar suspicions about Dzhokhar -- called "Jahar" by his friends -- who remains locked up under strict security at a prison hospital and stands accused of carrying out with his brother the bombings that killed three people and wounded 264 last month.
To his father, he was "an angel." To those who knew him at school, he was "cool," "sweet" and "smart." All signs pointed to the ethnic Chechen teen with the tussled hair being nothing more than an ordinary student.
He had a car, liked to listen to loud music, had enough money to take a few trips to New York City with his friends.
On scholarship at the University of Massachusetts at Dartmouth, Tsarnaev lived on campus and, in addition to attending the gym, he was known for smoking pot, drinking beer and partying.
By his own admission, he was not a stellar student: his grades were poor in most subjects.
His Twitter feed is a digest of the daily mundanities of student life, recounting sleep-deprivation, videogames and laundry. He wrote that he loves peanut butter and Nutella, that he found Miss America sexy, and, two days before the attack, that he got a haircut.
On Russian social network VKontakte, he described his worldview as "Islam," but he also said that "career and money" mattered most.
He was rarely seen at the mosque.
But Dzhokhar admired his older brother, and he seems to have been deeply influenced by his family history.
A Muslim of Chechen origin, Dzhokhar was born in Kyrgyzstan, a member of the Chechen diaspora created from deportations in the 1940s under Russian leader Joseph Stalin.
He spent his early childhood in Kyrgyzstan before his family moved to Dagestan, and then, when he was eight years old, to the United States, where his father was a mechanic in the Boston suburb of Cambridge.
He was naturalized as an American citizen last year.