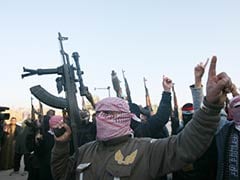 Baghdad:
Bomb attacks killed eight people in and around Baghdad today as US- led coalition warplanes targeted Islamic State insurgents west of the capital, police and medics said.
A suicide bomber in a car killed five civilians in the Shula neighbourhood and wounded 15 other people, they said.
Hours earlier, a roadside bomb exploded on a commercial street in al-Mahmoudiya district just south of the capital, killing three civilians and wounding seven.
Iraq is facing multiple security challenges, including Islamic State militants who have seized large parts of the north and west of the country, an oil producer and OPEC member.
The country is also gripped by a sectarian conflict mostly between Shi'ites and Sunnis that has been exacerbated by the rise of the ultra-hardline Sunni militants of Islamic State.
US-led coalition warplanes killed four Islamic State insurgents north of the city of Falluja, which is held by the group.
Insurgents fired mortar rounds at a bridge near the town of Garma, 30 km (20 miles) northwest of Baghdad, killing one soldier and wounding three others, an army source said.
© Thomson Reuters 2015