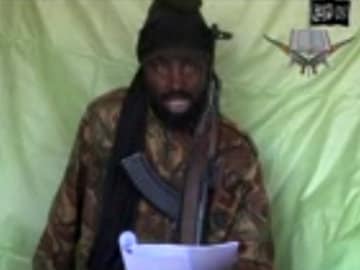 Abuja, Nigeria:
Boko Haram leader Abubakar Shekau has claimed responsibility for two explosions on June 25 at a fuel depot in Lagos, Nigeria's commercial hub, in a video seen by Reuters on Sunday, which if true would be the militants' first recorded attack on the city.
"A bomb went off in Lagos. I ordered (the bomber) who went and detonated it," Shekau said.
The two blasts minutes apart last month in the main port of Apapa were almost certainly caused by bombs, three senior security sources and the manager of a major container company told Reuters. One was most likely the work of a female suicide bomber, they said.
Authorities said the blasts on Creek Road were an accident caused by a gas canister, but the security sources told Reuters that was a cover-up meant to prevent panic in the city of 21 million people. At least two people were killed.
Shekau also claimed a bomb in a shopping mall in Abuja's upmarket Wuse II district that killed 24 people, the third in the capital since April and among a growing body of evidence that its attacks are spreading southwards.
CAUSE FOR CONCERN
A military spokesman declined to comment, saying it was a police matter. A spokesman for police headquarters said that only Lagos police could comment. A spokeswoman for Lagos police division, however, did not respond to a request for comment.
"You said it was an ordinary fire, but it was me in that fire. Well, you can hide it from people but you can't hide it from Allah," Shekau says in the video, which shows him next to gunmen in front of two armoured personnel carriers and two pickup trucks.A confirmed attack by Boko Haram would be a cause for concern. Lagos is both an international business hub and a usually peaceful but at times uneasy melting pot of ethnicities from the mostly Christian south and Muslim north that have fought street battles in the past.
The target of the Lagos bombs was a fuel depot. Had it gone up, it could have caused a massive chain explosion and disrupted Nigeria's mostly imported fuel supply.
Security sources say it may have been the work of a group or individual inspired by Boko Haram, and point out that its failure to hit its target makes it unlikely this was an expertly trained bomber. Shekau has been known to claim attacks suspected to be the work of another Islamist group or a criminal gang.
Shekau gets the name of the governor of Lagos State wrong in the video, mocking Adams Oshiomole, who is in fact the governor of the southern Edo State.
Shekau also ridicules Western education -- Boko Haram means Western education is forbidden -- along with "the ideologies of America, England, France, China and the whole world".
© Thomson Reuters 2014