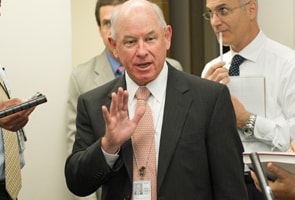 Washington:
The United States on Thursday said that the Bhopal gas tragedy is a closed case now.
"Yes," State Department Spokesman P J Crowley told reporters when asked if US considers Bhopal gas tragedy as a closed case now.
Later the State Department Department official clarified that legally Bhopal gas case is closed.
In December 1984, a Union Carbide plant in Bhopal spewed toxic gas into surrounding neighbourhoods, killing thousands instantly and tens of thousands later.
In 1999, Dow Chemical Company bought the Union Carbide which was responsible for the world's worst industrial disaster in 1984 - the Bhopal gas tragedy.
This year, a court sentenced seven Indian managers to two-year jail terms.
After public outrage that the sentences were not tougher, India promised to renew efforts to extradite Union Carbide's former boss Warren Anderson.
Meanwhile, BJP and Left parties alleged that the US was trying to arm-twist India to let Dow Chemicals go scotfree with regard to its liability in the Bhopal gas tragedy.