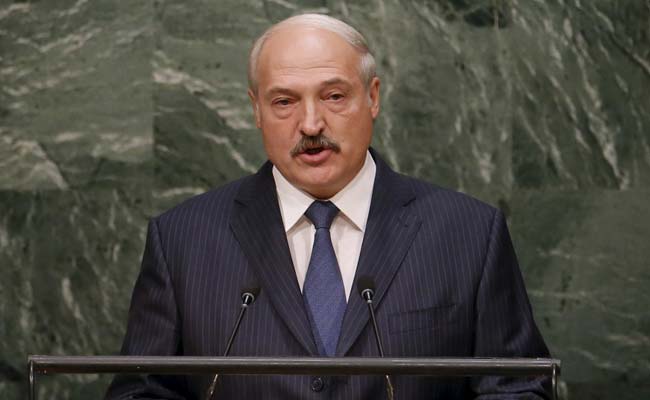 Minsk, Belarus:
Belarus, which holds a presidential election today, is a Soviet-style state sandwiched between the European Union and Russia.
Authoritarian President Alexander Lukashenko has ruled the country since 1994 and looks set to win a fifth term.
Lukashenko's iron fist
Lukashenko, 61, has won successive elections, most of which have been widely denounced as rigged.
Belarus was termed "the last remaining dictatorship in Europe" by US president George W. Bush during a visit to neighbouring Latvia in May 2005.
Lukashenko unleashed a bloody crackdown on the opposition and civil society in December 2010 after thousands took to the streets to protest his disputed re-election.
However, he has sought to build bridges with the West since then, and ahead of the new vote has released six opposition leaders, including a former presidential rival.
European Union sources said ahead of Sunday's poll that the 28-nation bloc could suspend sanctions against Lukashenko and 150 other people depending on how the election goes.
Links to Russia
Declared independent for a brief period in 1918, Belarus re-emerged as an independent state when the Soviet Union collapsed in 1991.
It is a long-standing ally of Russia however, and is a founding member of the Moscow-led Eurasian Economic Union.
Relations between the two allies have sometimes been prickly, and Lukashenko has largely remained neutral over the conflict in neighbouring Ukraine, hosting peace talks in Minsk attended by the leaders of Russia, France and Germany along with both sides in the Ukrainian conflict.
A centrally-planned economy
A landlocked country of 9.5 million inhabitants (World Bank, 2014), Belarus is about two-thirds the size of neighbouring Poland.
While many claim Belarussian as their mother tongue, the language has been sidelined in favour of Russian.
Belarussian dissident Svetlana Alexievich, who writes in Russian, has just won the 2015 Nobel Literature Prize.
The country has a centrally-planned economy and lacks natural resources.
Its economy is based on heavy industry, fertilizer production and agriculture. Cheap natural gas from Russia props up economic activity, and 40 percent of Belarussian exports are to Russia.
Per capita income last year was $7,340 according to World Bank data.
In 2009, the International Monetary Fund set up an economic rescue package, but additional credit has been refused owing to a lack of structural reforms.