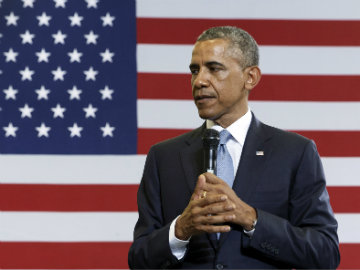 Washington:
President Barack Obama is keeping a low public profile as he celebrates his 53rd birthday.
Obama has no public events scheduled on Monday, though he will be getting his daily briefing and meeting with Treasury Secretary Jacob Lew.
Obama held a weekend celebration on the golf course and at Camp David, the presidential retreat in the Maryland mountains. Among those joining the president were three friends from his childhood in Hawaii.
The president's birthday comes amid a trying stretch for the White House on both domestic and international issues. As Obama was being peppered with political and policy questions during a news conference Friday, he said: "I thought that you guys were going to ask me how I was going to spend my birthday."