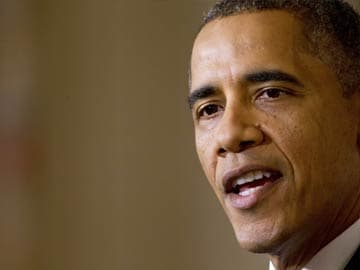 Washington:
US President Barack Obama congratulated Afghanistan on its landmark presidential election on Saturday, saying it was "critical" to securing the country's democratic prospects and continued international aid.
The ballots, which could usher in the country's first democratic transfer of power, "represent another important milestone in Afghans taking full responsibility for their country as the United States and our partners draw down our forces," Obama said in a statement.
"These elections are critical to securing Afghanistan's democratic future, as well as continued international support."
Afghan voters braved threats of violence to line up outside polling stations en masse - with a final turnout expected to exceed 50 per cent, or seven million - to pick a successor to President Hamid Karzai for the first time since the US-led invasion in 2001.
"Millions of Afghan men and women took to the polls today with courage and commitment," US Secretary of State John Kerry said in a statement.
"This is their moment. The Afghan people secured this election. They ran this election, and most importantly, they voted in this election."
Obama urged election officials to make their formal decision on the outcome fairly, "knowing that the most critical voices on the outcome are those of Afghans themselves."
Karzai has refused to sign a security agreement that would allow the US to keep around 10,000 troops in Afghanistan to train local forces and hunt Al Qaeda, and relations with Washington have dropped to a new low.
Afghans have taken over responsibility for security from US-led forces, and this year the last of the NATO coalition's 51,000 combat troops will pull out, leaving local forces to battle the resilient Taliban insurgency without their help.

Awaiting 'willing partner'
Obama, who has had tense ties with Karzai, said "we look forward to continuing our partnership with the new government chosen by the Afghan people on the basis of mutual respect and mutual accountability."
Pentagon chief Chuck Hagel commended the Afghan National Security Forces for providing the security that allowed the voting to take place.
"The progress we have seen in Afghanistan is a testament to the tireless efforts and sacrifices of American, (NATO's) ISAF and Afghan personnel," he added.
"But above all, it shows the strength and resilience of the Afghan people, and of the partnership the United States has built with them. It is a partnership that will endure."
While hailing the high voter turnout as an "important step," top US military officer General Martin Dempsey stressed that many Afghans, Americans and other foreigners had lost their lives to make a potential democratic transition possible in Afghanistan.
"Today's election did not come without significant sacrifice - the sacrifice of the Afghan people and many Americans and service members from partner nations who have been killed and wounded fighting there since 2001," he said.
"We look forward to the outcome of the elections and the opportunity to continue to work together, with a willing partner, for a better Afghanistan."
Since the United States toppled the Taliban regime in 2001, 2,316 American troops have been killed, according to iCasualties.org, which uses Pentagon data to estimate combat losses.