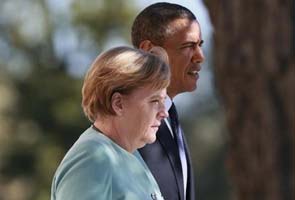 Washington:
The National Security Agency denied German press reports on Sunday that President Barack Obama was personally informed of US spies tapping German Chancellor Angela Merkel's phones.
NSA chief General Keith Alexander "did not discuss with President Obama in 2010 an alleged foreign intelligence operation involving German Chancellor Merkel, nor has he ever discussed alleged operations involving Chancellor Merkel," spokeswoman Vanee' Vines said.
"News reports claiming otherwise are not true."
German media said the phone tapping may have begun as early as 2002, further stoking global outrage over revelations of the NSA's broad snooping into the communications of several dozen world leaders and ordinary citizens.
Bild am Sonntag newspaper quoted US intelligence sources as saying that Alexander had briefed Obama on the operation against Merkel in 2010.
News weekly Der Spiegel reported that leaked NSA documents showed Merkel's phone had appeared on a list of spying targets for over a decade, and was still under surveillance weeks before Obama visited Berlin in June.
If the spying against Merkel began as reported in 2002, it would mean the United States under then president George W. Bush targeted her while she was still the country's chief opposition leader, three years before she became chancellor.
The revelations threatened to hurt transatlantic ties, and led Merkel to confront Obama in a phone call Wednesday, saying that such spying would be a "breach of trust."
The White House has said it is not monitoring Merkel's phone calls and will not do so in future, but it has refused to say whether it did previously.