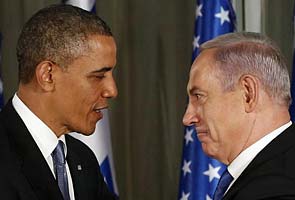 Ramalla, Palestinian Territories:
US President Barack Obama arrived in the West Bank on Thursday to a more prickly welcome from Palestinian leaders than the warm embrace he won in Israel the day before.
Obama flew by helicopter over the barbed wire fences and walls of the Israeli separation barrier, before meeting Palestinian leaders dismayed by his failure to live up to expectations that he could help deliver them a state.
As Marine One touched down under a blazing sun in the courtyard of the Muqataa presidential compound, a military band began playing and Obama was warmly greeted on the red carpet by Palestinian president Mahmud Abbas.
The US president, on his first visit to the Holy Land since taking the White House in 2009, was expected to restate his vision of a two-state solution to the Israeli-Palestinian conflict, despite years of delays and disappointments.
Obama was to hold talks with Abbas and then prime minister Salam Fayyad, in a less than five-hour diversion to the occupied territories on the second day of a visit primarily engineered to ease tensions with Israel.
Despite the tight cordon of security around the Muqataa, around 150 Palestinian protesters could be seen trying to get near, shouting "Obama, you're not welcome here!" and "Obama, get out of Ramallah!"
Hours before leaving for Ramallah, the complications which would test any new US peace effort were underlined when two rockets fired by militants in the Hamas-run Gaza Strip slammed into southern Israel.
In only the second such attack since November, the rockets hit in Sderot, a border town which Obama visited in a previous visit to Israel while a presidential candidate in 2008.
There was no immediate comment from the White House, and a senior Israeli official said the government would be watching closely to see if Abbas condemned the rocket strike during his news conference with Obama.
Earlier on Thursday, Obama went to the Israel Museum to view the Dead Sea Scrolls dating back more than two millennia and which include some of the earliest text from the Bible, in a move seen as a nod to the ancient roots of the Jewish state.
The visit was seen as a way of making up for Obama's comment in a 2009 speech to the Muslim world in which he said the Jewish homeland was rooted in the "tragic history" of the Holocaust.
Obama says he has come "to listen" to both sides about how to resume peace talks frozen for two-and-a-half years.
He decided against coming with a comprehensive peace plan that might not gel with current political conditions.
"Ultimately, this is a really hard problem," Obama said during a news conference with Israeli Prime Minister Benjamin Netanyahu on Wednesday.
"It's been lingering for over six decades. And the parties involved have, you know, some profound interests that you can't spin, you can't smooth over. And it is a hard slog to work through all of these issues."
Obama's new approach was a stark contrast to early in his first term, when he declared Israeli settlement building to be illegitimate and promised to dedicate himself to peace.
He admitted on Wednesday that he had perhaps made mistakes, but argued that he was not the only US leader to have come a cropper on the issue.
"I hope I'm a better president now than when I first came into office," Obama said.
"I'm absolutely sure that there are a host of things that I could have done that would have been more deft and, you know, would have created better optics."
In an op-ed published on Wednesday, Palestinian peace negotiator Nabil Shaath urged Obama to prove his commitment to a two-state solution by turning pledges into deeds.
"We could have saved lives and political capital if President Obama had shown the determination to create the right environment for meaningful decisions leading to a two-state solution," he wrote.
"Now, rather than calling for the resumption of a meaningless 'peace process,' we Palestinians expect real action on the ground."
Shaath said Obama had disappointed Palestinians who once warmed to his calls for an end to settlement building.
"President Obama appeared to give up on his goal," he said.
Netanyahu, however, on Wednesday re-committed to the notion of a two-state solution for the first time since he was re-elected in January, albeit in a weaker political position.
"Let me be clear: Israel remains fully committed to peace and to the solution of two states for two peoples," he said.
The Palestinians are hoping Obama will help broker the release of more than 1,000 prisoners held by Israel and also free up $700 million in blocked US aid.