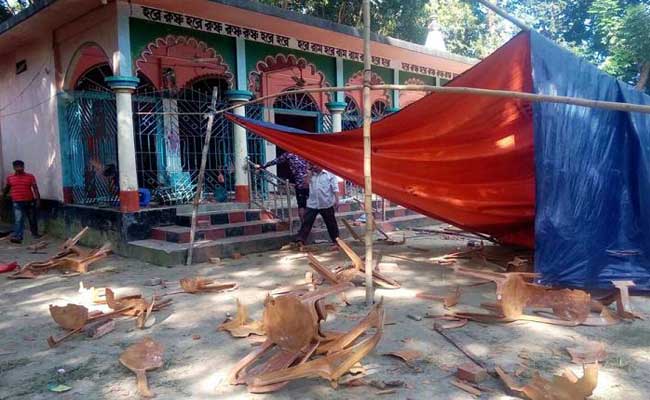 Dhaka:
People living in Bangladesh's Hindu-dominated Nasirnagar area have formed neighbourhood watch teams to keep vigil, after goons set fire to several Hindu homes and temples earlier this month.
Police have also arrested four more people for their alleged involvement in the recent attacks on the Hindu community in Nasirnagar upazila of Brahmanbaria.
Neighbourhood watch teams were formed after criminals set fire to six houses in Banikpara, Akhrapara, Thakurpara, Hashpatalpara and Dattapara on the nights of November 3 and 5.
Meanwhile, four persons were arrested from different areas of Narsingar upazila on Thursday night, Abu Jafar, officer-in-charge of Nasirnagar Police Station, told The Daily Star.
With the arrest, a total of 78 people so far were arrested in connection with the attacks on Hindu people.
A team of eight persons comprising representatives from Hindu and Muslim communities was seen guarding Namasudrapara village on Wednesday, the Daily Star reported.
Mofiz Mia, headmaster of Goalnagar Government Primary School, said, "we don't think about who is a Muslim and who is a Hindu. There are about 20 Muslim families in Namasudrapara, and we guard our village together at night."
Majority of the residents in the Hindu localities are poor fishermen, farmers and small traders, and they depend on their daily earnings to feed their families.
In Kasipara, five youths with torches and sticks stayed put on the outskirts of their village.
Kasipara village is one of the six Hindu-dominated areas in Nasirnagar sub district that came under a mob attack on October 30 following a Facebook post allegedly by a Hindu youth, "hurting the religious sentiment of the Muslims".
At least 10 temples in the area were vandalised and over 100 persons were injured in the attack, which the victims blamed local influential people, the Daily Star reported.
The ruling Awami League suspended three of its Nasirnagar unit leaders for their alleged involvement.
The youths would be guarding the village till dawn to make sure no outsider with an ill-motive could enter the village.
Members of the vigilance teams and some elderly Hindu people said they decided to keep watch over their areas during nights as they cannot afford another attack on their houses.
Sanjeeb Dev, leader of a neighbourhood watch team at Namasudrapara, said such vigils were required, especially after midnight when "law enforcers can hardly be seen in the villages".