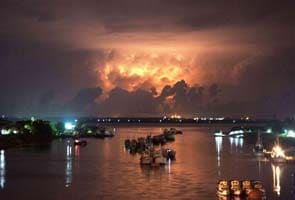 Chittagong:
Bangladesh on Wednesday ordered the evacuation of hundreds of thousands of people as forecasters said a cyclonic storm would hit low-lying coastal areas by early Thursday.
"We've ordered people in low-lying river shoal areas to evacuate to cyclone shelters," Chittagong government administrator Mohammad Abdullah told AFP, saying several hundred thousand people were covered by the order.
Cyclone Mahasen is still classified as the lowest-level category one on a one-to-five scale and packing winds of up to 88 kilometres (55 miles) per hour at its centre, Shamsuddin Ahmed, deputy chief of Bangladesh Meteorological Department, told AFP.
But as a category one storm it "could unleash a storm surge of up to seven feet (two metres) high in the low-lying coastal areas" and create damage in other areas, Ahmed said.
Bangladesh officials added they had raised the alarm level to seven from four, reflecting the urgency to evacuate people from the path of the storm which was expected to make landfall in the southeastern Chittagong region early on Thursday.
Late Tuesday the UN said the cyclone, moving northeastwards over the Bay of Bengal and threatening the coasts of Bangladesh and Myanmar, appeared to have weakened but still posed a risk to over eight million people.
Abdullah said the storm could affect 4.7 million in the Chittagong region, which has 1510 cyclone shelters where 1.3 million people can be housed.
"We will also use local schools and other community centres as cyclone centres to provide shelters to the coastal people," he said. "We're using loudspeakers at the coastal areas to ask people to move to safer places."
"We've already evacuated people from some fishing villages" to the mainland, he added.
The river shoal areas run into the Bay of Bengal.
The storm's peripheral gusty or squally wind may affect Bangladesh's coastal regions from 10 pm (2130 IST) Wednesday, weather officials said.
Deputy conservator of Chittagong port Nazmul Alam said vessels were ordered to move to outer anchorage from jetties for the safety of port installations.
"We've suspended cargo handling," he said.
Bangladesh and Myanmar have both been frequent victims of cyclones which have left hundreds of thousands of people dead in recent decades.
Around 30 million of Bangladesh's population of 153 million live along the coast, and Chittagong is the country's second-largest city.
Cyclone Nargis, which devastated Myanmar's Irrawaddy Delta in May 2008, killed about 140,000 people.