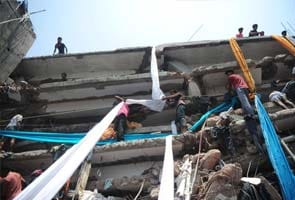 Dhaka:
The death toll from Bangladesh's worst industrial disaster surpassed 600 on Sunday after dozens of bodies were pulled from the wreckage of a nine-storey building housing garment factories, the army said.
Lieutenant Imran Khan of the army control room, which was set up to coordinate the rescue operation following the disaster last month, told AFP that recovery efforts had gathered pace and the "death toll now stands at 610".
"The toll is expected to rise further," he said.
The building, which housed five garment factories, collapsed near the capital Dhaka on April 24, trapping more than 3,000 people. Some 2,437 people have been rescued, Khan said.
Hundreds of distraught relatives gathered at the site on the twelfth day, as cranes and bulldozers cut through a mountain of concrete and mangled steel.
Mohammad Jashim, 25, whose garment worker sister Jakiya Begum was still missing, was among those holding a vigil at the site on Sunday.
Every time a body is recovered, he rushes to see whether the remains are those of his sister."I won't leave without her bones. She was like a mother to me," he told AFP.
Officials said the bodies pulled out have missing limbs in some cases or have decomposed, delaying identification.
"We've identified only a handful of them by their mobile phones that were found in their pockets or identity cards given by the factories," deputy administrator of Dhaka district, Zillur Rahman Chowdhury, told AFP.
He said more bodies were expected to be found in the rubble as the stench of decaying corpses remained strong.
Preliminary findings of a government probe have blamed vibrations by four giant generators on the compound's upper floors for triggering the collapse.
The building's architect, Masood Reza, told AFP he designed the structure to house a shopping mall and offices, not factories.
Police have arrested twelve people including the plaza's owner and four garment factory owners for forcing people to work on April 24, even though cracks appeared in the structure the previous day.
Factory workers have held protests calling for tough punishment for those responsible for the disaster, and demanding improved safety regulations.
The tragedy came just five months after a fire killed 111 people in a nearby garment factory.
UK retailer Primark, Italy's Benetton and Spanish firm Mango have admitted they had placed orders with the factories based in the compound, triggering an angry response in many Western countries.
Bangladesh is the world's second-largest garment exporter after China. The industry accounts for 80 per cent of the country's exports and more than 40 per cent of its industrial workforce.