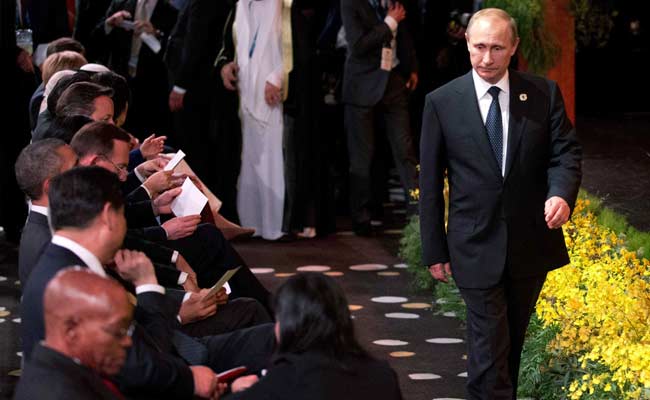 Kiev:
The Kiev State Ballet School has refused to accept money raised by Moscow's Bolshoi Theatre after it emerged the star dancer at a charity gala had supported the annexation of Crimea.
At the Bolshoi last Sunday, some of the world's leading dancers from Russia, Ukraine and France put on a dazzling performance to raise money for renovations at the Kiev ballet school.
The show was organized by prima ballerina Svetlana Zakharova, who was born in Ukraine and trained at the school, which she said was in dire need of repair.
But it seems her political views have made her charity far from welcome back in Kiev.
"The Ukrainian artists who participated in the concert appear to not be aware that the Russian dancer S. Zakharova signed a letter supporting the politics of (Russian President) Vladimir Putin in Crimea," wrote the school's director Ivan Doroshenko in a letter published on the Ministry of Culture's website on Saturday.
"Otherwise, they would never have agreed to take part in this provocative farce."
The Crimean peninsula was annexed by Russia in March after a referendum that was heavily criticized by Ukraine and the West.
"The money raised during this concert is not comparable to the thousands of dead, the hundreds of thousands of square kilometres of territory, the tens of billions of hryvnias that Ukraine has lost," said Doroshenko, referring to the bloody conflict in the east of the country where the government has been fighting Russia-backed separatists for the past eight months.
"Needless to say, the choreography school of Kiev renounces the 'help' of Svetlana Zakharova," he concluded, while accepting that the school was still in need of help for rebuilding work.
Zakharova had hoped the proceeds from the gala dubbed "Ballet Without Borders" would help renovate her alma mater.
"It's necessary to help children, no matter what country they live in," Zakharova told AFP on the day.
She said she got the idea for the concert during her visit to Kiev last year.
"The idea was born before the situation became complicated. There was no way back- these are kids."
But members of the Kiev school had admitted to a certain bitterness about turning to Russia for help, even though they agreed that dance should stay "outside of politics".
The artistic director of the school, Nobuhiro Terada, underlined that "even if there hasn't been any work for a long time, that doesn't stop us from putting on new shows with global stars".
"Ukrainians conquer the world," he said of the dancers from the school, although he regretted that so many ended up joining companies abroad, particularly in Russia.