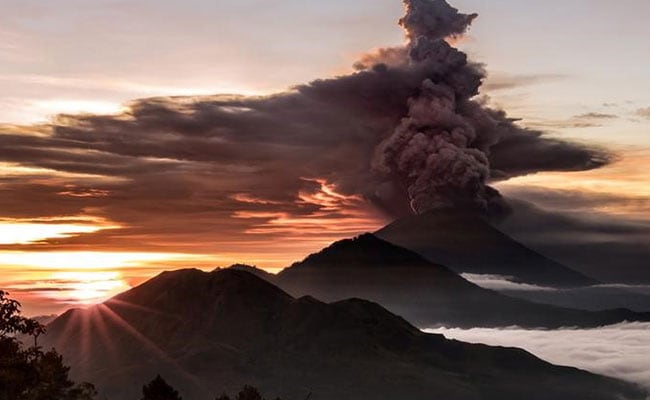 Denpasar, Indonesia: A rumbling volcano on the resort island of Bali could erupt at any moment, authorities warned today as they raised alert levels to maximum, accelerated a mass evacuation and closed the main airport, leaving tourists stranded. Massive columns of thick grey smoke that have been belching from Mount Agung since last week have now begun shooting more than three kilometres (two miles) into the sky, forcing flights to be grounded. Indonesia is the world's most active volcanic region. The archipelago nation with over 17,000 islands lies on the Pacific "Ring of Fire" where tectonic plates collide, causing frequent volcanic and seismic activities.
Here are the 10 latest developments in this big story:
The closure of the main airport on the holiday island has disrupted 445 flights and stranded some 59,000 passengers, due to the eruption and the presence of volcanic ash from Agung; officials said the airport closure could be extended.
Many tourists were told that even in the best scenario it would be several days before they could leave.
Some 40,000 frightened people have fled their homes around the volcano but as many as 100,000 will likely be forced to leave, disaster agency officials said after raising the alert to its highest level.
Agung rumbled back to life in September, forcing the evacuation of 140,000 people living nearby. Its activity decreased in late October and many returned to their homes.
However, on Saturday the mountain sent smoke up into the air for the second time in a week in what volcanologists call a phreatic eruption -- caused by the heating and expansion of groundwater.
Then on Monday so-called cold lava flows appeared -- similar to mud flows and often a prelude to the blazing orange lava seen in many volcanic eruptions.
Airlines avoid flying when volcanic ash is present because it can cause significant damage to aircraft engines, leading to possible engine failure, and can clog fuel and cooling systems and hamper pilot visibility.
In June 1982, a British Airways 747 suffered severe damage and had all four engines flame out after encountering ash from Mount Galunggung in Indonesia. It descended to 12,000 feet before being able to restart some engines and make an emergency landing in Jakarta.
Agung rises majestically over eastern Bali to a height of just over 3,000 metres (9,800 feet). Eastern Bali is relatively undeveloped, with traditional rice paddies doting the landscape. Agung's last eruption in 1963 left more than 1,000 people dead and razed several villages.
Bali, famous for its surf, beaches and temples, attracted nearly 5 million visitors last year. Tourism business has slumped in Bali since September when Agung's volcanic tremors began to increase.