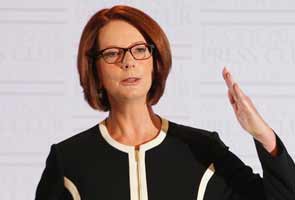 Sydney:
Two senior Australian ministers have been dragged into a snowballing Labor party corruption scandal, admitting accepting hospitality from a former powerbroker at the centre of an explosive inquiry.
Environment Minister Tony Burke and Senate leader Stephen Conroy both stayed at a ski lodge owned by Eddie Obeid, who is the focus of an Independent Commission Against Corruption probe over an alleged "criminal conspiracy".
Obeid, a former powerful kingpin in the New South Wales state Labor party, is accused of using highly confidential information about a prospective coal licence to enrich himself and his family by tens of millions of dollars.
He has been giving evidence this week in a hearing that has gripped Sydney, with people queuing for hours to get a glimpse of proceedings that have seen him accused of effecting a massive "fraud on the people of New South Wales".
Obeid denies the allegations that he conspired with the state's former resources minister to obtain insider information, but in a new twist revealed Burke accepted his hospitality when he was in opposition.
"We are generous people and we like to share our generosity with our friends," Obeid told the hearing late Tuesday, fingering Burke and several state politicians, including current NSW Labor leader John Robertson.
Conroy said he too had stayed there once when in opposition.
It is another major headache for Prime Minister Julia Gillard, whose ruling Labor party is badly lagging in opinion polls after she last week announced an election for September 14.
Adding to her woes, two other senior ministers resigned over the weekend while an ex-Labor MP was arrested on 154 fraud charges. The former MP, Craig Thomson, appeared in court Wednesday and was bailed to reappear on May 22.
Both Burke and Conroy Wednesday played down their links to Obeid, rejecting suggestions that anything was expected in return.
"I declare two separate stays at this accommodation in the period 2004 to 2006," Burke said in a statement, denying he had been "good mates" with Obeid.
"On both occasions I stayed with my family. On neither occasion was any member of the Obeid family present."
Conroy told ABC radio he stayed after being invited by Burke, and denied any association with Obeid.
"I don't think -- and I could be wrong -- but my recollection is I've never as much as had a cup of coffee with Eddie Obeid," he said.
Federal Liberal frontbencher Scott Morrison questioned Burke and Conroy's judgement.
"There is an old saying in this life that you can't choose your family but you do choose your friends, and it is clear that Eddie Obeid has friends in Julia Gillard's cabinet," he told reporters.