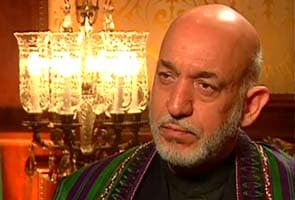 Kabul:
Afghan President Hamid Karzai said on Saturday a suicide bombing that wounded his intelligence chief was planned in the Pakistani city of Quetta and that he would raise the issue with Islamabad.
Karzai stopped short of blaming the Pakistani government directly. But he said the issue would be raised with neighbouring Pakistan, a regional power seen as critical to U.S. efforts to stabilise Afghanistan before NATO combat troops leave by the end of 2014.
On Thursday, a suicide bomber posing as a peace messenger wounded Afghanistan's intelligence chief, Asadullah Khalid, dealing a blow to a nascent reconciliation process.
"Of course we will be seeking clarification from Pakistan because we know this man who came in the name of a guest to meet Asadullah Khalid came from Pakistan. We know that for a fact," said Karzai.
"We will be firmly and clearly seeking clarification and asking for any information that they may have."
The Afghan Taliban claimed responsibility for the attack, although it often makes exaggerated claims about attacks on foreign troops or government targets.
Karzai said the militant Islamist group was not behind the attack in the heart of the capital, Kabul.
"Apparently the Taliban claimed responsibility like many other attacks but such a complicated attack and a bomb hidden inside his body, this is not Taliban work," Karzai said.
"It's a completely professional (job) ... Taliban cannot do that and there are bigger and professional hands involved in it."
Karzai said he would discuss the issue with Pakistani officials during a meeting in Turkey.
"This is a very important issue for us and we hope that the Pakistan government in this regard gives us accurate information and cooperates seriously, so the doubts we have end," he said.
Ties between Kabul and Islamabad have been strained by cross-border raids by militants groups and accusations that Pakistan's intelligence agency backs Afghan insurgent groups to advance its interests in the country.
Pakistan denies the accusations and says it is committed to helping bring peace to Afghanistan.
The leadership of the Afghan Taliban fled to Quetta after their government was toppled by NATO-backed Afghan forces
in the wake of the September 11, 2001, attacks on the United States.
Pakistan denies Taliban leaders live in Quetta.
© Thomson Reuters 2012