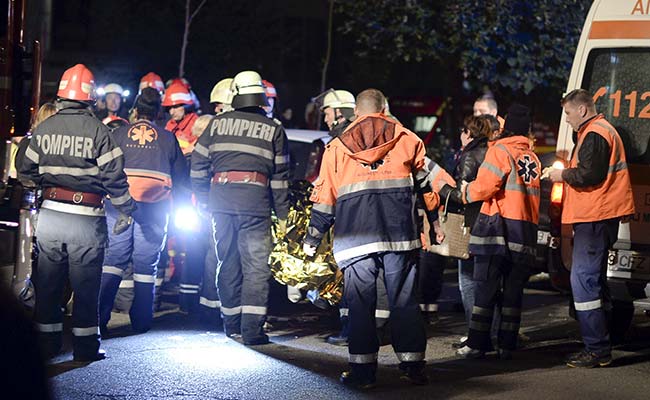 Bucharest:
Twenty six people died and 145 were injured in a fire and explosion in a Bucharest, Romania, nightclub during a rock concert that featured fireworks late on Friday, government officials and witnesses said, in one of the capital's worst incidents in decades.
The death toll has likely stabilised at the club, which held about 400, mostly young adults, Deputy Interior Minister Raed Arafat said.
Several witnesses said there were fireworks inside the club. A pillar and the club's ceiling went up in flames and then there was an explosion and heavy smoke, they said.
"The situation is slowly stabilising ... we have many people with burns, intoxicated with smoke and people squashed," Arafat said, adding many victims have no identification documents.
Arafat said the victims were admitted to 10 hospitals in Bucharest.
"I saw fire all over the place," a woman at the club told private Romania TV. "I saw people changing their mood from happiness to deep panic."
TV footage showed police officers and paramedics trying to resuscitate young people lying on the pavement while sirens wailed with more ambulances deployed to the scene.
"There was a stampede of people running out of the (Colectiv) club," a man who escaped without shoes told Reuters.
Deputy Prime Minister Gabriel Oprea, who said a "code red" emergency procedure was enforced, said an investigation into the causes of the incident was already under way, and the health minister launched a public appeal for blood donations.
Romania's President Klaus Iohannis said in a statement: "I want to assure you of all support from rescuing forces and ask you to trust they put all efforts to limit the impact of this catastrophe."
An emergency meeting of cabinet ministers was set for early on Saturday to assess the incident.
© Thomson Reuters 2015