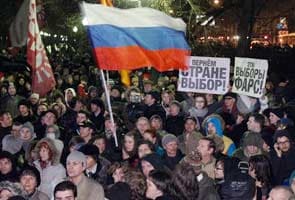 Moscow:
Russian riot police on Tuesday arrested top opposition leaders and hundreds of activists who were seeking to stage a protest rally against alleged ballot rigging in favour of Prime Minister Vladimir Putin's ruling party during the parliament election.
The authorities have deployed thousands of riot police and interior troops in the capital in the wake of last night's mass rally and demonstration against Prime Minister Putin, whose United Russia won 238 seats in the 450-seat State Duma in Sunday's polls, down sharply from the 315 seats it won in the last polls in 2007.
Ex-vice premier in Boris Yeltsin cabinet, Boris Nemtsov and chief of the local chapter of liberal 'Yabloko' party Sergei Mitrokhin have been arrested in down-town Moscow, while attempting to stage protest rally against alleged ballot rigging at Sunday's Duma polls.
ITAR-TASS news agency said Nemtsov, Mitrokhin and others were arrested while trying to enter a 'sanctioned' rally of five thousand pro-Kremlin 'Young Guard' youth group.
Opposition supporters shouted "Shame on you fascists!" and "Russia without Putin" in a tense stand-off with hundreds of pro-Kremlin youth who descended on the site in advance.
There is a total black out of the opposition rallies on the state-controlled TV channels and the liberal websites remain the only source of information. However, the government-run RIA Novosti on its English wire portal showed live webcast of events on the Triumfalnaya Square (former Mayakovsky Square), the favourite place for
anti-Kremlin opposition.
President Dmitry Medvedev and the Russian Foreign Ministry have reacted angrily at the US Secretary of State Hillary Clinton's criticism of the Duma polls. She said they were 'neither free nor fair'.