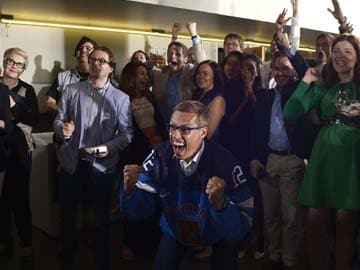 Helsinki:
Alexander Stubb is set to become Finland's new prime minister after he won a vote to head the ruling conservative party on Saturday.
Stubb, 46, currently European and trade minister in Finland, will replace Jyrki Katainen, who said in April he would step down to seek a job within the European institutions.
He defeated Social Affairs Minister Paula Risikko by 500 votes to 349 in the second round of polling by members of Finland's national coalition.
Stubb is a former foreign minister known for his liberal economic stance. Staunchly pro-European and an advocate of Finland's accession to NATO, he is faced immediately with an economy mired in recession.
Finland has endured eight consecutive quarters of decline or stagnation in gross domestic product (-0.4 percent in the first quarter of 2014) making for the country's longest recession in 20 years.
Public debt, just under 50 percent of GDP when Katainen took office in 2011, will this year surpass the European Union limit of 60 percent, putting Finland's cherished Triple A credit rating in doubt.
The conservative party -- officially, the Party of National Coalition -- has 44 of parliament's 200 seats. It came first in European elections in May with 22.6 percent of the vote, ahead of its main rivals, the Centre Party with 19.7 percent and the eurosceptic and anti-immigration Finns party on 12.9 percent.