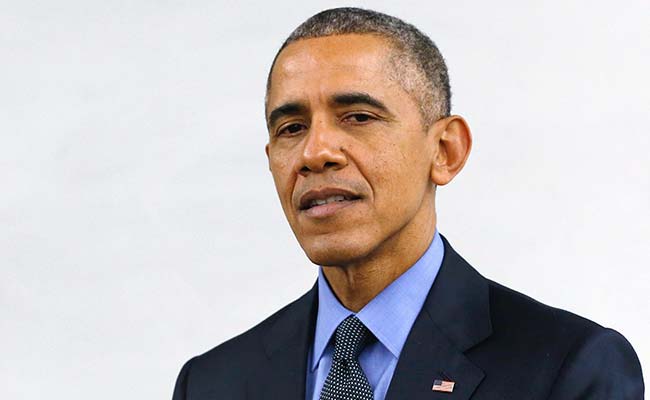 Honolulu:
With Washington increasingly consumed by the November elections, President Barack Obama will spend much of his final year in office traveling the country and the world.
He has two trips to Asia, two more to Europe and another to Latin America on his calendar, and a second to Latin America will most likely be added, according to administration officials. And before the tires on Air Force One cool from each of those trips, the president will jog up the stairs of the plane for numerous jaunts around the United States to campaign and raise money for Democratic candidates, as well as to host foreign leaders outside Washington.
More travel is something almost every modern president has sought to do in his last year in office, said Elaine C. Kamarck, a presidential scholar and a senior fellow at the Brookings Institution.
"They have so much more latitude to accomplish things in foreign affairs at the end than they can domestically," Kamarck said. "And that's particularly true for Obama, who not only has a Congress of the opposite party but one that is irretrievably hostile to him."
Obama has often told audiences that his favorite presidential perk is having his own plane, but he has noted that "my lease is running out." So it appears, while he still has the opportunity, that he is going to put that plane to a lot of use.
"The president will be focused on finishing strong on his foreign policy agenda, including implementation of the Iran deal, ratification of TPP, follow-through on the Paris climate change accord and making the Cuba normalization irreversible," said Benjamin J. Rhodes, the president's deputy national security adviser, referring to the Trans-Pacific Partnership trade accord.
Indeed, Obama's first major event outside Washington that is already on his calendar for 2016 is a trip on Feb. 15-16 to Sunnylands in Rancho Mirage, California, to host the leaders of the Association of Southeast Asian Nations, or ASEAN. It will be the first time those leaders will gather in the United States.
Then he has trips to Japan in May for a Group of 7 summit meeting and another to China in September for the Group of 20. There are likely to be additional stops in Asia during both trips, including a confirmed trip to Laos in September and a visit to Vietnam in May that is still being worked out.
Evan S. Medeiros, a former senior adviser for Asia in Obama's White House, said the Sunnylands summit meeting and the two Asian trips would go a long way toward assuring Asian nations that the United States was serious about making the region a priority.
"A trip to Vietnam would be a big deal," Medeiros said. "It would reinforce Vietnam's strategic options in the face of Chinese coercion."
In late April, Obama will travel to Germany to meet Chancellor Angela Merkel and to participate in the Hannover Messe - the world's largest trade show for industrial technology. The president's participation in the event is intended to showcase U.S. innovation and to highlight the United States as a prime investment destination, according to the White House.
This summer, Obama will travel to Poland to participate in a NATO summit meeting. He will almost certainly add more countries to both of these European excursions.
The European trips are intended not only to further the administration's foreign policy goals but to highlight - in the midst of what by then will be a heated presidential contest - how well the United States is doing compared with Europe, which has been mired for years in a fitful economic recovery and swamped by a refugee crisis.
"When Obama goes abroad, you're reminded how well the United States is actually doing and how much people like the president," said Tommy Vietor, a former National Security Council spokesman for Obama. "It's an explicit rebuke to the notion that America is in decline or that he's unpopular."
In November, Obama will travel to Peru for the Asia-Pacific Economic Cooperation meeting, but there is almost certain to be another visit to Latin America as early as March. That trip could include a stopover in Cuba and another in Colombia, where a final peace deal between the government and the Revolutionary Armed Forces of Colombia, or FARC, is scheduled to be signed on March 23. President Juan Manuel Santos of Colombia will visit the White House in February.
In addition, Obama intends to visit Argentina, where the recent election of President Mauricio Macri promises far better relations between the two Western powers.
The president will "work to capitalize on the United States' significantly strengthened position in the Americas - including his normalization with Cuba, supporting the pursuit of peace and security in Colombia, and engaging new leaders like the new president of Argentina," Rhodes said.
Obama has spent little time in Latin America, but visiting the region during an election season when Hispanic votes will prove crucial in many states has obvious benefits.
His easing of tensions with Cuba has been fiercely opposed by many Republicans, including Sens. Marco Rubio of Florida and Ted Cruz of Texas, both leading presidential contenders and children of Cuban emigres. But polls suggest that Obama's Cuba policy is widely popular, particularly among Hispanics.
Administration officials believe that, rather than waiting for the Castro government in Cuba to loosen its grip on power before making a presidential visit there, Obama can use his presence to help create momentum toward democracy that the Castros will be unable to stop.