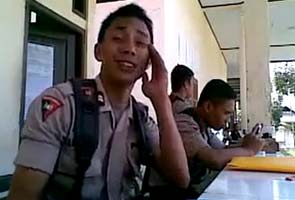 Jakarta:
First Indonesian police were angry about a young cop's YouTube lip-synching antics. Then they championed him for softening the image of an unloved force. Now, after he put stardom aspirations over his job, he's been fired.
National police spokesman Saud Usman Nasution says Norman Kamaru was dishonorably discharged Tuesday after failing to show up at work for two months.
A video of Kamaru trying to lift the spirits of a heartbroken colleague by shimmying and lip-synching to the Bollywood hit "Chaiyya Chaiyya" went viral in April.
(Video Courtesy: StudentiaLatini)
Initially, the top brass was furious. But their tune changed after the public rallied to Kamaru's support.
With a $100,000 record deal in his pocket, he recently told his bosses he wanted out. They said no. And Kamaru stopped coming to work.