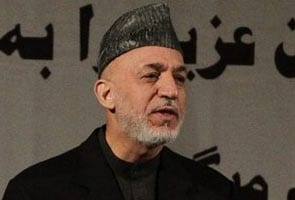 Kabul:
The Afghan government on Thursday accused Pakistan of wrecking efforts to end the Taliban's bloody 11-year insurgency, in the latest sign of worsening cross-border relations.
Pakistan, which backed Afghanistan's 1996-2001 Taliban regime, is seen as having a crucial role in negotiating a political settlement with the Islamist extremist leaders who shelter in Pakistan's border districts.
Relations had improved between the countries over recent months, building up to a three-way summit hosted by Britain in February to find an end to the war that US-led troops have waged since 2001.
But President Hamid Karzai's spokesman said that Pakistan had now abandoned the peace process and aimposed "impossible" pre-conditions on any further discussions that would encourage the Taliban to lay down their weapons.
"Things were going well up to the trilateral (summit) in Britain, so we were hopeful, but soon it became clear that Pakistan had changed its position and the peace process was no longer its priority," Aimal Faizi told AFP.
"They demanded we cut all ties to (Pakistan's arch-enemy) India, send army officers to Pakistan for training, and sign a strategic partnership."
Faizi described Pakistan's demands as impossible because India was one of Afghanistan's closest allies, and any Afghan officer who was trained in Pakistan would be viewed as a suspected spy when he returned home.
"And if we signed a strategic agreement with Pakistan, the Afghan public would stone us to death because they know that the suicide bombers that kill civilians and our armed forces come across from Pakistan," Faizi added.
One sign of the breakdown in ties was the cancellation on Wednesday of a confidence-building visit by 11 Afghan officers to take part in a military exercise in the Pakistani city of Quetta.
The government in Kabul said the visit had been scrapped over reported firing of 50 shells from Pakistan into the Afghan province of Kunar.
The Pakistani foreign ministry said its troops had responded to "some intrusions from the Afghan side".
"We believe that Afghanistan overreacted to a small incident," said ministry spokesman Aizaz Ahmed Chaudhry.
Last month a conference of Afghan and Pakistani religious scholars aimed at pushing forward the peace process was also called off due to disagreements.
The head of Pakistan's government-backed Ulema Council, Allama Tahir Ashrafi, said there was no point to the meeting unless the Afghan Taliban were invited.
He was then accused in Afghanistan of condoning suicide attacks in a television interview.
Faizi, who recently described the international coalition's war effort against the Taliban as "useless and unwise", launched a stinging attack on the Pakistan government.
"Today there is more instability on the Pakistan side of the Durand Line (border) than on the Afghan side," he said. "Afghanistan is moving in the right direction, but in Pakistan they are losing control of more provinces to the terrorists.
"President Karzai has often visited Pakistan to tell them that terrorism is destroying us all and we should fight it together before it is too late, but instead they accuse him of being an obstacle to peace."
Kabul's new determination to work without Pakistan has triggered huge concern among international backers who are scrambling to foster some stability in Afghanistan before US-led combat forces leave the country next year.