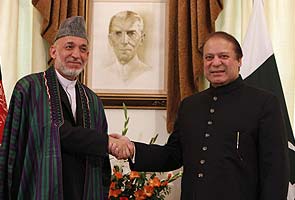 Islamabad:
Afghan President Hamid Karzai today pitched for a joint campaign against extremism with Pakistan and sought its cooperation to jumpstart the peace process with the Taliban in his war-torn country.
Karzai, who arrived in Islamabad on a day-long visit, made his appeal in talks with Pakistan Prime Minister Nawaz Sharif, who promised to extend all possible assistance.
Stating that both he and Mr Sharif discussed all issues of mutual concern, Mr Karzai said, "We discussed in this regard primarily and with emphasis the issue of joint fight against extremism and reconciliation in Afghanistan with the expectation that the Government of Pakistan will facilitate and help in manners it can to the peace process in Afghanistan and providing opportunities on all platforms for talks between Afghan High Peace Council and the Taliban movement."
The Afghan president said the primary concern for both countries is the lack of security for their citizens and the continued menace of terrorism.
"It is this area that needs to have primary focused attention by both countries. It is with hope on this that I have come to Pakistan and to advance efforts and action together so that we can have peace in Afghanistan and Pakistan," Mr Karzai said addressing media persons.
Mr Sharif on his part said his government has assumed office with the resolve to create a peaceful external environment so that it can focus on Pakistan's domestic priorities.
"Being in a cooperative and stable relationship with all our neighbours is a vital component of this vision. Our security and future prosperity is linked to Afghanistan in multiple ways. President Karzai is visiting at an important juncture in his country's history. We wish the Afghan people....The year 2014 is particularly crucial for Afghanistan and this region," Mr Sharif said.
Ties between the two countries nosedived after Pakistan and the US supported a Taliban office that opened in Doha in June to foster talks. Mr Karzai was infuriated by the opening of the Taliban office, considered a precursor towards talks with US officials. He now wants Pakistan to help open dialogue with the Taliban which has refused all contact with Kabul.
Mr Karzai was also upset over a reported statement by Pakistan's National Security Advisor Sartaj Aziz that Kabul should cede some provinces to Taliban for lasting peace.
Mr Aziz reportedly proposed this to Afghan Ambassador Umer Duadzai in a meeting in Islamabad in June.